Spink USA
145 W. 57th St., 18th Floor
New York, NY 10019
USA
Tel: +1 212 262 8400
Fax: +1 212 262 8484
Email: usa@spink.com
E-Mail: concierge@spink.com
Spink is the world's leading auctioneer of stamps, coins, banknotes, medals, bonds & shares, autographs, books and wine. Since its foundation in 1666, the Spink name has become synonymous with tradition, experience and integrity. Holder of royal warrants and numerous records for prices achieved at auction, Spink offers an unparalleled range of services to collectors worldwide. Headquartered in London, with offices in New York, Hong Kong, Singapore and Switzerland, Spink holds over 70 auctions a year.
Wir akzeptieren folgende Zahlungsmöglichkeiten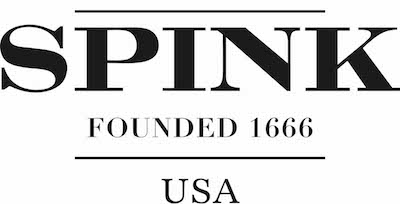 12. - 13. September 2018
USA, Kanada, Bahamas, Burma, Großbritannien, Frankreich, Hongkong, Australien, Russland, Kolumbus Ausgaben und vieles mehr
Sonderinformation
Kurzbedingungen
Der Käufer muss zusätzlich zum Zuschlagspreis ein Aufgeld von 20% bezahlen. Außerdem wir eine Gebühr bei Bezahlung mit Kreditkarte berechnet.
Alles Lose unterliegen den jeweiligen gesetzlichen Steuersätzen, wenn keine nachgewiesene Steuerbefereiung besteht.
Geschäftsbedingungen für diese Auktion
167. Spink US Auktion - The Philatelic Collector's Series Sale
---
Mittwoch 12.09.2018
Los von
Los bis
Anfangszeit

EDT

1
227
12:00

EDT

228
382
15:30

EDT
Donnerstag 13.09.2018
Los von
Los bis
Anfangszeit

EDT

383
455
10:30

EDT

456
666
12:30

EDT

667
890
15:30

EDT