John Bull - The 2011 Winter Auction
---
Auction Date: December 16-19, 2006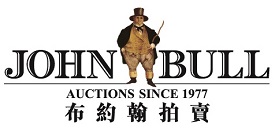 John Bull Stamp Auctions, Ltd.
7/F, Kwong Fat Hong Building
1 Rumsey Street, Sheung Wan
Hong Kong

Tel : (852) 2890 5767
Fax : (852) 2576 5110
Payment Options:
John Bull - The 2011 Winter Auction
---
×
TERMS & CONDITIONS
Please read our 'Terms & Conditions' page carefully before taking part in the auction in order to avoid misunderstandings or complications.
VIEWING
Lots may be viewed at our premises, Stanhope House, Room 210, 2nd Floor, 734 King's Road, Quarry Bay, Hong Kong by appointment only. For security reasons lots are not stored on our premises and it will be necessary for clients to state in advance which lots they wish to view. Please telephone 28905767 for viewing appointment. Viewing time 10 a.m. - 6 p.m. Monday to Friday, 10 a.m. - 2 p.m. Saturday. There will be no viewing on the day of the sale.
VALUES
Please note that the estimates quoted are our estimates of the current market price of the lots on the Hong Kong market. These are estimates only and it may be that any particular lot may sell well below or well above estimate. Bids at less than 60% of our estimate are respectfully declined unless the published vendor's reserve is already below 60% of estimate. Reserve prices (where shown) in this catalogue are in Hong Kong dollars.
BIDDING
Floor bidding will be in Hong Kong dollars. When entering the auction room you will be given a numbered card which will be registered against your name. Please hold this card up when bidding, when you have made a successful bid the auctioneer will call out your bidder's number to confirm that the lot has been sold to you. Bid stages will normally be as follows but may be altered by the auctioneer at his discretion. Postal/telephone/fax/e-mail bids received in odd values will be reduced to the nearest bid stage.
Bidding Increments
$500 to $800 by $50 stages
$800 to $2,000 by $100 stages
$2,000 to $4,000 by $200 stages
$4,000 to $20,000 by $500 stages
$20,000 to $30,000 by $1,000 stages
$30,000 to $100,000 by $2,000 stages
$100,000 and up at Auctioneer's discretion
CONDITION
Our description of condition is as follows:
Mint : Unused with gum, hinge mark or hinge remainders.
U/M : Unused with full original gum, never hinged.
o.g : Original gum.
Unused : Without postmark and without gum.
Fine Used : Used with cancels not obliterating design.
Used. Postally used, may be heavy cancels.
C.T.O. : Cancelled to order; not postally used but cancelled by favour, possibly with original gum.
SYMBOLS & ABBREVIATIONS.
Before Lot No.
** Unmounted mint (never hinged)
* Mint or unused
o Used
MS Miniature sheet (souvenir sheet)
C Covers or Cards
B Blocks, i.e. blocks of four or larger
P Proofs
S Specimens
Within Lot Description.
Bklt: booklet.
Cat: Catalogue.
cds: circular date stamp.
CTO: Cancelled to order
Colln: Collection.
Compl: complete.
C/W: Commonwealth.
FDC: First Day Cover.
FFC: First Flight Cover.
FU Fine used.
imperf: imperforate.
incl: including.
M: Mint.
MC: Maltese Cross canc.
opt: overprint.
pmk: Postmark.
PPC: Picture Post Card.
PSC: Postal stat card.
PSE: Postal stat env.
PSRE: Postal stat reg env.
recd: received
SB: Stock book.
SC: Stock card.
Seln: Selection.
STC: Stated to catalogue.
U: Used.
U/M: Unmounted Mint (never hinged).
Unwmked: unwatermarked.
wmk: watermark.
w/out: without
PAYMENT
Payment is due on presentation of invoice, cheques must await clearance from our bankers before delivery of lots unless the client already has an approved credit account with us. Postal bidders will normally be sent a proforma invoice for settlement before delivery of lots. Clients in Australia, Canada, United Kingdom & USA may pay by personal cheque in their own currency, a small bank charge will be levied. Personal cheques are also accepted from some other countries, please check with us first. Outstanding accounts over 30 days will be charged interest at the rate of 2% per calendar month.
Payment to vendors cannot be made until such time as the purchaser has paid in full.
Vendors are requested to note that lots withdrawn after the catalogue has been produced or after despatch of proofs to our printers will be subject to commission at 20% of estimate or reserve.
COLLECTION/DELIVERY OF LOTS.
Lots will not be available for collection from the auction room. Buyers who have made successful purchases at the auction may collect their purchases from our office from the day following the auction. Postal/telephone/fax/e-mail bidders' lots will not normally be available for collection for at least three days after the auction. Lots purchased by overseas postal/telephone/fax/e-mail bidders will be despatched as soon as practical.
REFRESHMENTS
The hotel will operate a refreshment bar in the auction room. Free tea and coffee will be served during the auction. Other refreshments will also be available but for clients own account please.
×
John Bull - The 2011 Winter Auction
---
Auction Date: December 16-19, 2006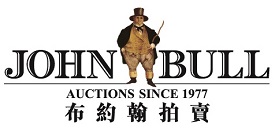 John Bull Stamp Auctions, Ltd.
7/F, Kwong Fat Hong Building
1 Rumsey Street, Sheung Wan
Hong Kong

Tel : (852) 2890 5767
Fax : (852) 2576 5110
Payment Options: