347./349. Heinrich Köhler Stamp Auction
---
Auction Schedule
Wendesday,
21. March 2012
from 9.00 o'clock
Lot# 2001 - 2922

Single lots:Europe with areas, coins etc.

from 14.30 o'clock
Lot# 2923 - 3286

Single lots: German Colonies, WW. I. Occ., Germany after 1945

Thursday,
22. March 2012
from 09.00 o'clock
Lot#3287 - 3752
Collections Europe and Overseas
from 13.30 o'clock
Lot# 3753 - 4524

Collections : All World, Country collections German states until German Federal Rep.

Friday,
23. March 2012
from 9.00 o'clock
Lot# 5001 - 5373
German States: Baden-Lothringen, Collection ASTRUL (see Specialcatalog)
from 13.30 o'clock
Lot# 5374 - 6023
Collection Friedrich Spalink, NDP-Deutsches Reich

Saturday,
24. March 2012

from 09.00 o'clock
Lot# 1001 - 1733
Collection Rainer Bender -Occ. WW II (see Specialcatalog)
following
Lot# 6024 - 6224
Occ. WW II.
×
Heinrich Köhler Auktionen
×
General Conditions for Auction
1. The auction is held exclusively on behalf of and for the account of third
The auctioneer is authorized to pursue in his own name all rights and claims arising from the vendor's instructions or the knocking down of lots.
2. Lots are knocked down to the highest bidder. The auctioneer has the right in justified cases to refuse to knock down a lot, and to withdraw, combine and divide lots. Equal bids are determined by drawing lots. A bidder is bound by his bid if it is followed by a higher bid which is invalid or which is immediately refused by the auctioneer. In case that a higher bid, which was placed in time, erroneously was overlooked or in any other cases of doubt, the auctioneer may cancel the knocking down and reoffer the lot. The auctioneer may knock down a lot subject to the seller's subsequent approval. The bidder is then bound by his bid for a period of four weeks from the date of making the bid. In case of a lot being knocked down subject to approval it can, however, be sold to another limit bidder without further inquiry.
On the fall of the hammer a contract is established between the seller and the buyer. The auctioneer is legally bound, if so requested, to divulge the seller's name to the buyer and the buyer's name to the seller.
3. Written orders to bid will be executed conscientiously and safeguarding the client's interests, but without recourse. The maximum prices as offered will be exhausted only to the extent as necessary to overbid other offers. In case of a bid "at best" the auctioneer may bid up to three times the start price, in case of bids "at any price" or "buy" up to ten times. The minimum bid for lots without estimate or for lots marked with "Gebot" is EUR 10,-.
4. The auctioneer receives a commission from the buyer of 21 % of the hammer price plus EUR 1,50 for each purchased lot. The buyer will be charged with the cost of postage, packing, insurance and the cost of import if necessary.
Value added tax on the auctioneer's commission and expenses together with value added tax on the hammer price if applicable will be invoiced separately.
(N.B. Value added tax on the auctioneer's commission and expenses is payable by all buyers regardless of their country of residence and regardless of where the lots are handed over or delivered.)
5. Bidders are obliged to take over lots knocked down to them. Invoices to room bidders are payable immediately, all other invoices are payable upon receipt. Due to a heavy workload in our accounts department, invoices issued during or immediately after the auction are subject to review and possible amendments; Errors reserved.
Persons bidding for third parties should make this known to the auctioneer before the auction; otherwise they may be deemed to be the buyer.
Lots remain the property of the seller until payment has been made in full which includes clearance of any cheques and payment of any bills of exchange.
The buyer has no right to request delivery of any lots until payment has been made in full.
6. If payment is delayed interest will be charged at 1 % per month or part month. This interest rate may be adjusted if the auctioneer can prove that a higher rate or the buyer can prove that a lower rate is justified; the interest rate is at least 5 % higher than the basis interest rate per year.
If the buyer fails to pay promptly or does not take up the lots, the auctioneer is entitled to demand flat-rate damages of 25 % of the hammer price in compensation for forgone commission and for expenses incurred unless the buyer can prove that there is no damage or that the amount claimed is excessive. The auctioneer reserves the right to claim higher damages subsequently.
7. Shipping of lots is at the buyer's cost.
The risk passes on to the buyer as soon as the lots are handed over to the Post Office.
8. All lots may be viewed and checked before the auction. Descriptions in the catalogue do not mean guarantees for quality and authenticity. The auctioneer is not liable for any defects of the items. He commits himself, however, to transmit without delay complaints about defects to the consignor. In case of reversed transaction the auctioneer will reimburse his commission to the buyer; any further claims to him are excluded.
Claims relating to obvious defects must be received by the auctioneer within ten days of handing over or delivery. The auctioneer is entitled to require the buyer to obtain at his expense reports from two independent experts that substantiate the claims. No claims of any sort, in particular relating to quality and quantity may be made in respect of collections, accumulations and other large lots. Unless stated otherwise, quoted catalogue values are not binding.
Lots already stated to contain faults cannot be returned by reason of further small faults. Defects which can be seen from illustrations (margins, perforations, cancellations, centering etc.) cannot be subject of complaints.
No complaint will be considered if lots or stamps have been altered. Alterations include removal of hinges, hinge remainders or paper adhesions, immersion in water, treating with chemicals and the addition (or removal) of marks of any sort.
If a lot is purchased subject to an expert opinion, the cost of which will be borne by the buyer, this expertising will be arranged by the auctioneer unless otherwise determined by the buyer.
With bidding for stamps which have already been expertised or for stamps with certificates the bidder accepts the expert marks and certificates which are available for his guidance and inspection as decisive unless the bid is made subject to certification by any expert nominated by the bidder and approved by the auctioneer before the auction.
Stamps which are clearly established as forgeries may be marked as such by experts.
The auctioneer is entitled to request the buyer to refer all complaints directly to the seller.
9. These auction terms also apply to subsequent sales after auction; the special provisions for distance sales do not apply.
10. Place of fulfillment for either party shall be Wiesbaden; any disputes arising shall be referred to the court having jurisdiction in Wiesbaden under German law.
11. No oral variations to these conditions are valid; all alterations or additions must be in writing.
12. Should one of the above conditions be unworkable in whole or in part, the validity of the other conditions will remain unaffected.
Heinrich Köhler Auktionshaus GmbH & Co. KG
(This translation of the "Allgemeine Versteigerungsbedingungen" is provided for information only; the German text is to be taken as authoritative).
×
Information for Online Disputes
"Online Dispute Resolution" (ODR platform by EU regulation)

Link to EU online dispute resolution (splatform)

Information according to Paragraph. 14 of EU Regulation no. 524/2013 (ODR Regulation)
Information for online dispute resolution:
The European Commission presents from 15.02.2016 an Internet platform for online dispute settlement (so-called "ODR platform") as a focal point for the extrajudicial settlement of disputes concerning contractual obligations arising from online contracts on goods or services used.
The EU Commission OS platform can be accessed at the link:
http://ec.europa.eu/consumers/odr
We can be reached via e-mail address: info@heinrich-koehler.de
---
×
347./349. Heinrich Köhler Stamp Auction
---
Auction Date: March 21-24, 2012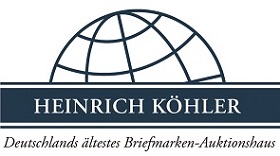 Heinrich Köhler
Auktionshaus GmbH & Co. KG
Wilhelmstr. 48
65183 Wiesbaden

Tel: +49 (0) 611 39381
Fax:+49 (0) 611 39384
Payment Options:
No results were found matching the search criteria!
×
Current Time: Wednesday January 17th 2018 - 10:01 MET