LENZ Briefmarken & Münzen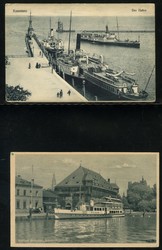 BODENSEESCHIFFSPOST: Slg. von 97 Karten und Belegen aus ca. 1900-1980...more
BODENSEESCHIFFSPOST: Slg. von 97 Karten und Belegen aus ca. 1900-1980 im Album, meist Schiffe und Häfen, viele alte Karten, sehr interessant, ansehen!

Automatically generated translation:
Lake Constance shipmail: collection from 97 cards and documents from approximate 1900-1980 in the album, mostly ships and Harbors, many old cards, very interesting, have a look!
LENZ Briefmarken & Münzen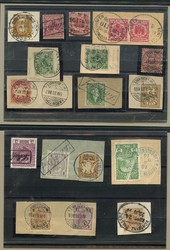 Ordner mit 49 Bodenseeschiffspost Belegen/Karte aus 1897-1915, danach...more
Ordner mit 49 Bodenseeschiffspost Belegen/Karte aus 1897-1915, danach noch über 100 neuere Belege und Karten

Automatically generated translation:
File with 49 Lake Constance shipmail documents / card from 1897-1915, after still over 100 newer documents and cards
Current Time: Monday May 17th 2021 - 02:42 MET