LENZ Briefmarken & Münzen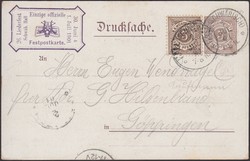 1901, 3 Pf. Privat-GSK "26.Schwäb.Sängerfest in Schwab.Hall"...more
1901, 3 Pf. Privat-GSK "26.Schwäb.Sängerfest in Schwab.Hall" (farbig), klar "Hall (Schwäb.)-1.Jul.01" mit 3 Pf. braun, Zusatzfrankatur, nach Göppingen, AKST, gute Erhaltung, sehr selten!

Automatically generated translation:
1901, 3 Pf. Privately postal stationery "26. Schwäb. Singing festival in Schwab. Hall" (coloured), clear "Hall (Schwäb. ) -1. July 01" with 3 Pf. Brown, additional franking, to Göppingen, arrival postmark, good condition, very rare!
LENZ Briefmarken & Münzen
1951, 10 Pf. Bauten, Privat-GSK "12.Dt.Sängerfest 1951" (rs....more
1951, 10 Pf. Bauten, Privat-GSK "12.Dt.Sängerfest 1951" (rs. farbig), passender Sonder-Stpl. "Deutsches Sängerbundfest-Mainz-28.7.51", blanko, sehr gute Erhaltung

Automatically generated translation:
1951, 10 Pf. Buildings, privately postal stationery "12. German singing festival 1951" (reverse coloured), suitable special cancel "German singer federal celebration Mainz 28.7.51", unmailed, excellent condition
Current Time: Thursday May 06th 2021 - 00:33 MET