1 more picture.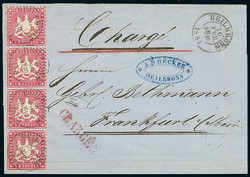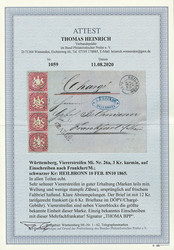 3 Kreuzer karmin, senkrechter Viererstreifen, sehr dekorativ geklebt...more
3 Kreuzer karmin, senkrechter Viererstreifen, sehr dekorativ geklebt - genau der Höhe des Faltbriefes entsprechend, auf Einschreibbrief mit K2 "Heilbronn 10 Feb.1865" auf jeder Marke einzeln und in der rechten oberen Ecke des Briefes nochmals beigesetzt mit nebengesetztem violettroten Langstempel "Charge" nach Frankfurt/Main an das Bankhaus Bethmann gelaufen. Die Marken teils mit minimaler Wellung bzw. wenigen stumpfen Zähnen. Tarifrichtige 12-Kreuzer-Frankatur im Deutsch-Österreichischen Postverein, wobei jeweils 6 Kreuzer auf die Brieftaxe und die Charge-Gebühr entfallen. Fotobefund Thoma BPP und neues Fotoattest Heinrich BPP: "Viererstreifen sind neben Viererblocks die größte bekannte Einheit dieser Marke. Einzig bekanntes Einschreiben mit dieser Mehrfachfrankatur!". (Bereits ein loser Viererstreifen dieser Marke wird im Michel mit 2.000 Euro bewertet. Das hier gezeigte Ganzstück verdient natürlich eine dazu deutlich erhöhte Bewertung.).

Automatically generated translation:
3 kreuzer carmine, vertical strip of four, very decorative fixed - exactly the height of the folded letter accordingly, on registered cover with two ring cancel "Heilbronn 10 February 1865" on each stamp single and in of the right upper corner of the letter once again additional with alongside violet red straight-line cancel "Charge" to Frankfurt (Main) to the bank Bethmann used. The stamps some with minimum corrugation respectively few blunt perforation. Tariff correct 12 kreuzer franking in the German Austrian Postal Union, whereby in each case 6 kreuzer on the letter tax and the Charge fee slip. Photo expertize Thoma BPP and new photo expertize Heinrich BPP: "strip of four are besides block of four the largest known unit of this stamp. Only well known registered mail with this multiple franking! ". (already a loose strip of four of this stamp becomes by Michel with 2.000 Euro valued. The here shown entire piece earns naturally an in addition to it clearly heightened valuation. ).
Current Time: Saturday June 19th 2021 - 14:50 MET