Numero del lotto 3006007447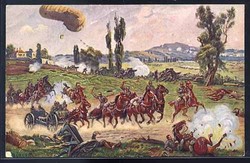 Farblichtdruck+Künstlerkarte mit Ansicht der Schlachten und Kämpfe...di più
Farblichtdruck+Künstlerkarte mit Ansicht der Schlachten und Kämpfe im Belgien wärend des I Weltkriegs. Karte als Feldpost 1915 gelaufen. Zustand II. Signiert: Bürger.

Automatically generated translation:
Collotype artist picture card with view of the battles and Battles in the Belgium wärend of the I world war. Card being an army postal service 1915 used. Condition II. signed: citizen.
Tempo attuale 8.01.am - 08:12 MET