Teutoburger Münzauktion GmbH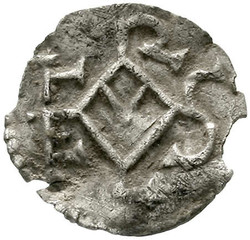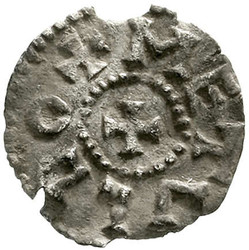 Obol o.J. Melle. Monogramm/+METVLLO um Kreuz im Perlkreis....more
Obol o.J. Melle. Monogramm/+METVLLO um Kreuz im Perlkreis. 0,70 g.
sehr schön, kl. Randabbruch, äußerst selten Anscheinend erst das
zweite Exemplar im Handel.

Automatically generated translation:
Obol undated Melle. Monogram / plus METVLLO about cross in the pearl circle. 0, 70 g. Very fine, small Randabbruch, extremely rare on the face of it first the second copy in trade.
Teutoburger Münzauktion GmbH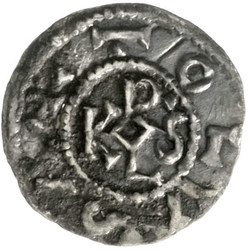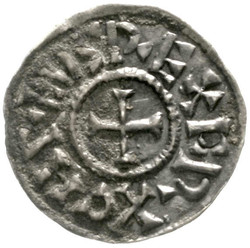 Pfennig o.J. Toulouse. +TOLVSA (liegendes...more
Pfennig o.J. Toulouse. +TOLVSA (liegendes S).
Karolus-Monogramm/+CARLVS REX FR. Kreuz. sehr schön, etwas Belag,
sehr selten

Automatically generated translation:
Penny undated Toulouse. Plus TOLVSA (horizontal S). Karolus monogram / plus CARLVS REX FR. Cross. Very fine, a little plaque, very rare
Teutoburger Münzauktion GmbH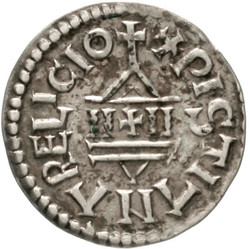 Pfennig o.J.(822/823) unbestimmte Münzstätte (wohl...more
Pfennig o.J.(822/823) unbestimmte Münzstätte (wohl Orleans).
+PISTIANA RELIGIO. Holzkirche, darunter V/+HLVDOVVICVS IMP. Kreuz,
in jedem Winkel eine Kugel. sehr schön/vorzüglich, selten

Automatically generated translation:
Penny undated (822 / 823) indefinite mint (seeming orleans). Plus PISTIANA RELIGIO. Wooden church, beneath V / plus HLVDOVVICVS IMP. Cross, in every nook and cranny a ball. Very fine / extremley fine, rare
Teutoburger Münzauktion GmbH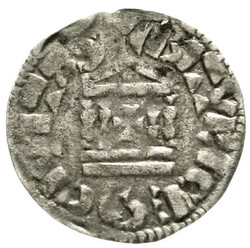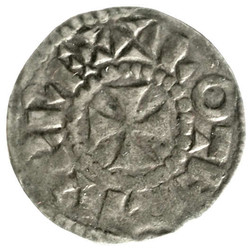 Pfennig o.J. Bourges. BITYRICES CIVITAS....more
Pfennig o.J. Bourges. BITYRICES CIVITAS. Holzkirche/+LOTHARIVS REX.
sehr schön

Automatically generated translation:
Penny undated Bourges. BITYRICES CIVITAS. Wooden church / plus LOTHARIVS REX. Very fine
Teutoburger Münzauktion GmbH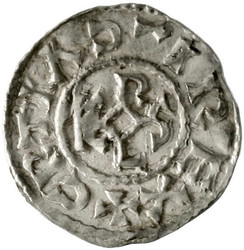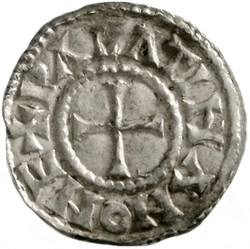 Pfennig o.J. Palastmünzstätte. +GRTIA D - I...more
Pfennig o.J. Palastmünzstätte. +GRTIA D - I REX.
Karolus-Monogramm/+PALATINA MONE. Kreuz. sehr schön/vorzüglich

Automatically generated translation:
Penny undated Palastmünzstätte. Plus GRTIA D - I REX. Karolus monogram / plus PALATINA MONE. Cross. Very fine / extremley fine
Teutoburger Münzauktion GmbH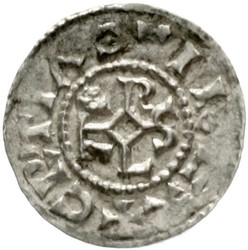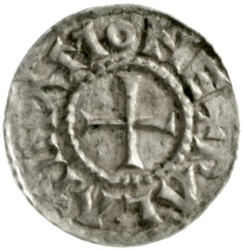 Pfennig o.J. Palastmünzstätte. +GRTIA D - I...more
Pfennig o.J. Palastmünzstätte. +GRTIA D - I REX.
Karolus-Monogramm/+PALATINA MONE. Kreuz. sehr schön/vorzüglich

Automatically generated translation:
Penny undated Palastmünzstätte. Plus GRTIA D - I REX. Karolus monogram / plus PALATINA MONE. Cross. Very fine / extremley fine
Teutoburger Münzauktion GmbH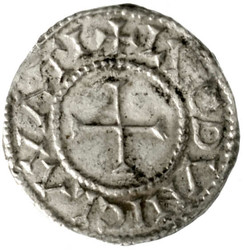 Pfennig o.J., Lyon. +GRATIA D - I...more
Pfennig o.J., Lyon. +GRATIA D - I REX. Karolus-Monogramm/+LVGDVNI
CIAVATI um Kreuz. sehr schön/vorzüglich, etwas gewellt

Automatically generated translation:
Penny undated, Lyon. Plus GRATIA D - I REX. Karolus monogram / plus LVGDVNI CIAVATI about cross. Very fine / extremley fine, a little wavy
Teutoburger Münzauktion GmbH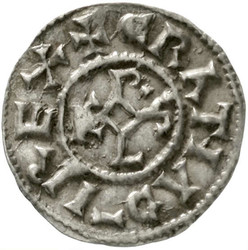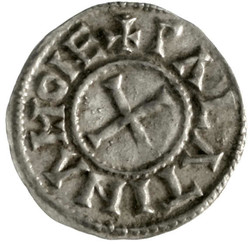 Pfennig o.J. Palastmünzstätte. +GRATIA D - I...more
Pfennig o.J. Palastmünzstätte. +GRATIA D - I REX.
Karolus-Monogramm/+PALATINA MONE. Kreuz. sehr schön/vorzüglich

Automatically generated translation:
Penny undated Palastmünzstätte. Plus GRATIA D - I REX. Karolus monogram / plus PALATINA MONE. Cross. Very fine / extremley fine
Teutoburger Münzauktion GmbH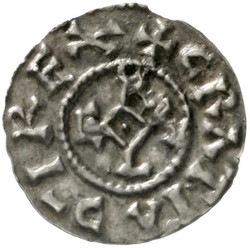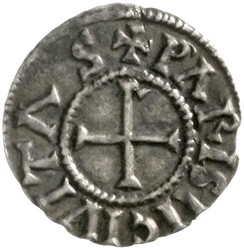 Pfennig o.J., Paris. +GRATIA D - I...more
Pfennig o.J., Paris. +GRATIA D - I REX. Karolus-Monogramm/+PARISII
CIVITAS um Kreuz. vorzüglich, schöne Patina

Automatically generated translation:
Penny undated, Paris. Plus GRATIA D - I REX. Karolus monogram / plus PARISII CIVITAS about cross. Extremley fine, nice patina
Teutoburger Münzauktion GmbH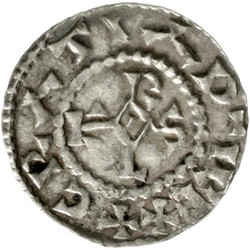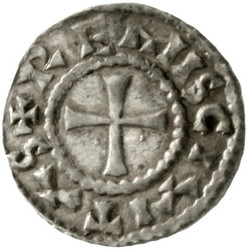 Pfennig o.J. Reims +GRATIA D - I REX....more
Pfennig o.J. Reims +GRATIA D - I REX. Karolus-Monogramm/+REMIS
CIVITAS. Kreuz. sehr schön, selten

Automatically generated translation:
Penny undated Reims plus GRATIA D - I REX. Karolus monogram / plus drawn CIVITAS. Cross. Very fine, rare
Teutoburger Münzauktion GmbH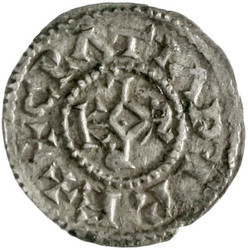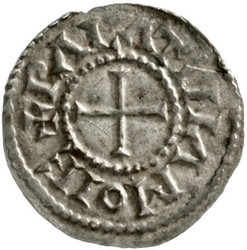 Pfennig o.J. Palastmünzstätte. +GRATIA D - I...more
Pfennig o.J. Palastmünzstätte. +GRATIA D - I REX.
Karolus-Monogramm/Schreibfehler: +PALATINA MOIIE. Kreuz.
vorzüglich, selten

Automatically generated translation:
Penny undated Palastmünzstätte. Plus GRATIA D - I REX. Karolus monogram / an error in writing: plus PALATINA MOIIE. Cross. Extremley fine, rare
Teutoburger Münzauktion GmbH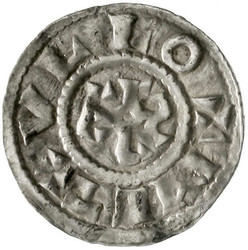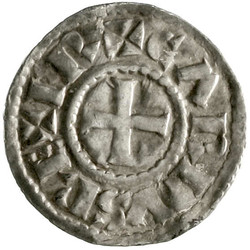 Pfennig o.J. Melle. +MET+VLLO um Monogramm, im Monogramm...more
Pfennig o.J. Melle. +MET+VLLO um Monogramm, im Monogramm das "S"
rethrograd/+CARLVS RE+FR um Kreuz. 1,58 g. sehr schön, selten

Automatically generated translation:
Penny undated Melle. Plus MET plus VLLO about monogram, in the monogram the "S" rethrograd / plus CARLVS RE plus FR about cross. 1, 58 g. Very fine, rare
Teutoburger Münzauktion GmbH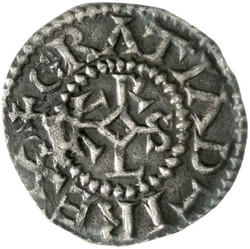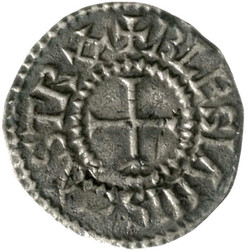 Pfennig o.J. Blois. +GRATIA D - I...more
Pfennig o.J. Blois. +GRATIA D - I REX. Karolus-Monogramm/+BLESIANIS
CASTRO. Kreuz. sehr schön

Automatically generated translation:
Penny undated Blois. Plus GRATIA D - I REX. Karolus monogram / plus BLESIANIS CASTRO. Cross. Very fine
Current Time: Tuesday December 10th 2019 - 10:59 MET