Gärtner Christoph Auktionshaus
1 more picture.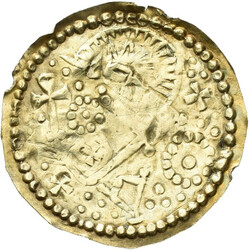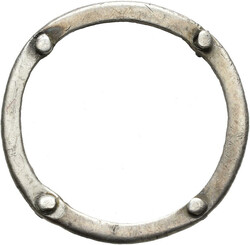 Brakteat aus Gold mit Fassung aus Silber aus der Merowinger Zeit, dem...more
Brakteat aus Gold mit Fassung aus Silber aus der Merowinger Zeit, dem ältesten Königsgeschlecht der Franken vom 5 Jhd. bis 751. Kriegerisch behelmter Kopf nach links schauend, in der Hand ein Kreuz haltend. Daneben Kringel, Punkte / Blumen und Kreuze. Der Brakteat wurde vermutlich als Auszeichnung/Orden für einen Offizier oder einen Kämpfer, der sich besonders hervorgetan hat, verwendet. Dieses UNIKUM wiegt 0,35 g. und besteht 73,79 % aus Gold, 23,20% aus Silber sowie weiteren Metallen. Die Fassung wiegt 0,59 g. und besteht aus 93,44 % Silber, 3,44% Gold, 2,33% Kupfer und andere Metallen. XRay Analysen, welche dies bestätigen und so das Stück auf das 7 Jhd. datieren können, liegen vor.
Als Brakteate werden einseitige runde Münzen bezeichnet, lat. Bracte = dünnes Blech, welche Ihren Vorbild in runden Anhängern / spätrömischen Medaillons hatten.

Automatically generated translation:
Bracteate from Gold with mount made of silver from the Merovingian time, the oldest royal family the Franc from 5 century to 751. Martial helmeted head left looking, in hand a cross holding. Beside curl, points / flower and cross. The bracteate was probably as award / decoration for an officer or a fighter, the be especially distinguished has, used. This unique dandles 0, 35 g. And exists 73, 79 % from Gold, 23, 20% made of silver as well further metals. The mount dandles 0, 59 g. And exists from 93, 44 % silver, 3, 44% Gold, 2, 33% copper and others metals. XRay analyses, which this confirm and all the piece on the 7 century to date can, lie before. As bracteatee become one-sided round coins designates, lat. Bracte = thin sheet metal, which your model in round pendants / late Roman lockets had.
Current Time: Tuesday June 15th 2021 - 12:59 MET