+4枚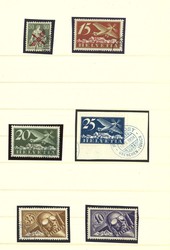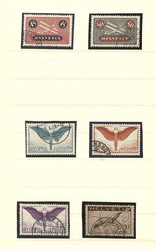 SCHWEIZ/FLUGPOST - 1919/63, schöne gest. Sammlung der Flugpostmarkenもっと見る
SCHWEIZ/FLUGPOST - 1919/63, schöne gest. Sammlung der Flugpostmarken im Einsteckbuch mit besseren Ausgaben, dabei auch 50 Rp. Propeller, Mi.Nr. 179/84, 233/34x, 233/34z, 245x, 518 im sehr schönen Eckrandpaar mit Randinschrift ideal gest. usw. Mi. circa 1600,- €

Automatically generated translation:
Switzerland / airmail - 1919 / 63, nice used collection the airmail stamps in the stockbook with useful issues, with also 50 Rp airscrew, Michel number 179 / 84, 233 / 34 x, 233 / 34 z, 245 x, 518 in the very nice corner margin pair with edge lettering perfect used and so on. Michel approximate 1600,- €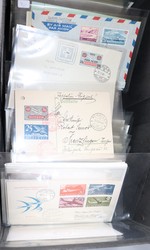 SCHWEIZ/FLUGPOST - schöne Partie von circa 280 Briefen, allesもっと見る
SCHWEIZ/FLUGPOST - schöne Partie von circa 280 Briefen, alles Flugpost, dabei reizvolle Belege, schöne Frankaturen, zahlreiche Erst- und Sonderflüge verschiedener Fluggesellschaften, auch Zuleitungen verschiedener Länder usw. Interessante Partie!

Automatically generated translation:
Switzerland / airmail - nice lot of approximate 280 covers, all airmail, as well attractive documents, nice frankings, numerous first and special flight different airlines, also incoming lines of different countries and so on. Interesting lot!
Y年m月d日@H:i