Berliner Auktionshaus Schlegel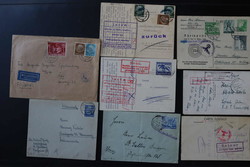 ZENSURPOST: 1940/41, acht ausschließlich bessere Belege mit...more
ZENSURPOST: 1940/41, acht ausschließlich bessere Belege mit OKW-Zensur und der verschiedensten Vermerke, wie "Aus dem Briefkasten" und Zurückweisungen. Dabei auch bessere Frankaturen.

Automatically generated translation:
Censored mail: 1940 / 41, eight exclusive better documents with OKW-censorship and the different note, like "from the postbox" and refusals. With also better frankings.
Berliner Auktionshaus Schlegel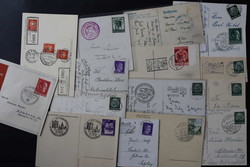 PROPAGANDA III. REICH: 1935/43 ca., 24 teils farbige deutsche...more
PROPAGANDA III. REICH: 1935/43 ca., 24 teils farbige deutsche Propagandakarten, dabei Parteitage, Hitler, Militär und Frauen, teils seltenere Motive, dazu italienische Karte Hitler/Mussolini und Sonderumschlag zum 20.April 1938, gebraucht und ungebraucht, meist gute Qualität

Automatically generated translation:
Propaganda III. REICH: 1935 / 43 approximate, 24 partly coloured German propaganda cards, as well party days, Hitler, military and woman, partly rarer motives, in addition to it Italian card Hitler / Mussolini and special envelope to the 20. April 1938, used and unused, mostly good quality
Berliner Auktionshaus Schlegel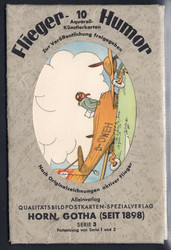 III. REICH PROPAGANDA: 1940, 7 Flieger-Humor-Karten, als...more
III. REICH PROPAGANDA: 1940, 7 Flieger-Humor-Karten, als Aquarell-Künstlerkarten der Fa. Horn, in der Original-Klapphülle, die kpl. Serie waren 10 Karten, leider nicht kpl., saubere Qualität

Automatically generated translation:
Third Reich propaganda: 1940, 7 airman humor cards, as watercolour artist picture cards of the company Horn, in the original folding cover, the complete set waren 10 cards, unfortunately not complete, neat quality
Current Time: Saturday May 08th 2021 - 09:32 MET