3 altre immagini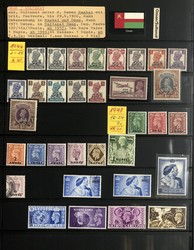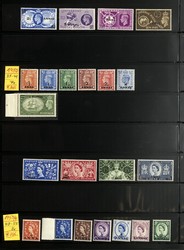 OMAN - 1944/82, interessante Sammlung auf Albenblättern, dabei ein...di più
OMAN - 1944/82, interessante Sammlung auf Albenblättern, dabei ein interessanter Teil aus der britischen Zeit, verschiedenen Freimarkenausgaben, auch die Freimarkenserie 1944, Silberhochzeit 1948, Rupienwerte etc. Ein reizvolles Objekt!

Automatically generated translation:
OMAN - 1944 / 82, interesting collection mounted on pages, as well an interesting part from of the British time, different postage stamp issues, also the postage stamps set 1944, silver wedding 1948, Rupien values and so on. An attractive object!
Tempo attuale 3.06.pm - 15:34 MET