16 altre immagini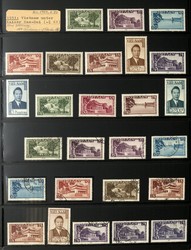 SÜDVIETNAM - 1951/75, reichhaltige Sammlung im Ringbinder mit...di più
SÜDVIETNAM - 1951/75, reichhaltige Sammlung im Ringbinder mit zahlreichen verschiedenen Ausgaben, kompletten Serien, Sonder- und Gedenkwerten, Freimarkenserie 1951 postfr./ungebraucht, Freimarken 1956 postfr., vielen weiteren kompletten Serien, sowie im Anschluss noch Ausgaben von Vietnam (Demokratische Republik) bzw. Nordvietnam. Ein reizvolles Objekt!

Automatically generated translation:
South Vietnam - 1951 / 75, rich collection in a ring binder with numerous different issues, complete sets, special- and commemorative values, postage stamps set 1951 mint never hinged / unused, postal stamps 1956 mint never hinged, many further complete sets, as well followed by still issues from Vietnam (democratic Republic) respectively North Vietnam. An attractive object!
62 altre immagini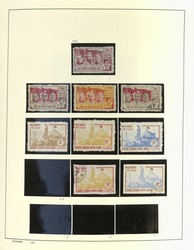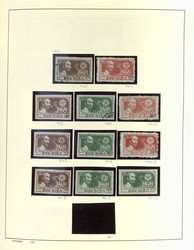 NORDVIETNAM - 1948/76, sehr interessante und enorm umfangreiche...di più
NORDVIETNAM - 1948/76, sehr interessante und enorm umfangreiche Sammlung im dicken Schaubek-Album zusammengetragen mit einer großen Materialfülle, zahlreichen gesuchten Ausgaben, vielen frühen Werten, gesuchten Serien, interessanten Motiven, Blocks ab Lenin-Block 1960 usw. Besonders bemerkenswert ist auch die große Anzahl der enthaltenen ungezähnten Ausgaben. Derart reichhaltige Kollektionen werden von diesem gesuchten Gebiet kaum einmal angeboten!

Bei den Liquidationslosen der 110. Auktion (Lose 1500-2371) sind ausnahmsweise Untergebote bis zu max. 30% unter Ausruf möglich.

Automatically generated translation:
North Vietnam - 1948 / 76, very interesting and enormously vast collection in the thick Schaubek album formed with a large amount of material, numerous sought-after issues, many early values, sought-after sets, interesting subjects, souvenir sheets from Lenin souvenir sheet 1960 and so on. Especially outstanding is also the large number of contained unperforated issues. So extensive collections become from this sought-after area hardly ever offered! By the liquidation lots the 110. Auction (lots 1500-2371) are exceptionally underbids pending max. 30% under starting price possible.
Tempo attuale 7.06.pm - 19:26 MET