+41枚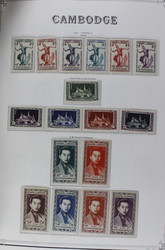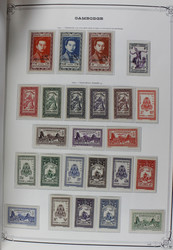 KAMBODSCHA - 1951/73, sehr schöne und reichhaltige Sammlung,もっと見る
KAMBODSCHA - 1951/73, sehr schöne und reichhaltige Sammlung, ganz überwiegend postfr. zusammengetragen auf Yvert-Falzlos-Vordruckblättern, komplett mit allen verausgabten Briefmarken und Blocks. Dabei auch Mi.Nr. 1/17, 31/50, Block 4/6, 7/10 und weitere gesuchte Ausgaben. Eine prächtige Sammlung, wie sie in dieser Vollständigkeit selten angeboten werden kann!

Automatically generated translation:
Cambodia - 1951 / 73, very nice and rich collection, all mainly mint never hinged formed on Yvert hingeless preprinted pages, complete with all issued postage stamps and souvenir sheets. With also Michel no. 1 / 17, 31 / 50, souvenir sheet 4 / 6, 7 / 10 and further popular issues. A superb collection, like they in this completeness can rarely be offered!
+160枚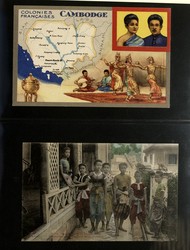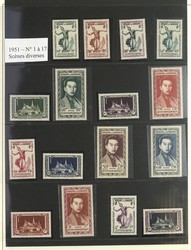 KAMBODSCHA - 1951/75, großartige Spezialsammlung inもっと見る
KAMBODSCHA - 1951/75, großartige Spezialsammlung in drei Lindner-Ringbindern zusammengetragen mit zahlreichen seltenen Ausgaben, dabei auch ältere Ansichtskarten, zahlreiche Sonder- und Gedenkserien, viele bessere ungezähnte Ausgaben, zahlreiche Blocks, viele Ministerblocks, auch FDC, etliche sogenannte Luxus-Blocks usw. Die Sammlung wurde ganz überwiegend postfr. zusammengetragen. Ein großartiges Objekt, wie es in dieser Reichhaltigkeit und Vielfalt nur sehr schwer zusammenzutragen ist! (Die Sammlung ist im Internet vollständig abgebildet)

Automatically generated translation:
Cambodia - 1951 / 75, magnificent special collection in three Lindner ring binder formed with numerous rarely issues, with also older picture postcards, numerous special- and commemorative sets, many better unperforated issues, numerous souvenir sheets, many Secretary of State souvenir sheets, also First Day Cover, some so-called outstanding quality souvenir sheets and so on. The collection was all mainly mint never hinged formed. A magnificent object, like it in this richness and variety only very difficult to collect is! (the collection is fully illustrated on the Internet)
Y年m月d日@H:i