Berliner Auktionshaus Schlegel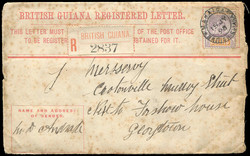 1898, R-Ganzschenumschlag (Klappe defekt) mit 2 Cent Zusatzfrankatur,...more
1898, R-Ganzschenumschlag (Klappe defekt) mit 2 Cent Zusatzfrankatur, mit amtlichem Lacksiegel "REGISTERED AT MAMAICA" und K2 MAMAICA, seltener Stempel. Der Umschlag ist stark stockfleckig (tropisch).

Automatically generated translation:
1898, registered postal stationery cover (flap defect) with 2 cent additional franking, with official varnish seal "REGISTERED AT MAMAICA" and two ring cancel MAMAICA, rare stamp. The cover is strong foxed (tropicalised).
Current Time: Saturday May 08th 2021 - 08:25 MET