+17枚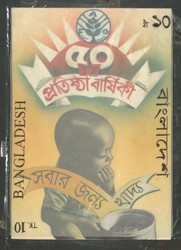 BANGLADESCH - außergewöhnliche Partie von 18 handgemaltenもっと見る
BANGLADESCH - außergewöhnliche Partie von 18 handgemalten Original-Entwürfen zu verschiedenen Ausgaben bis in die neunziger Jahre, alle farbig. Dabei gesuchte Motive wie z.B. Tauben, Früchte etc. Ideal zur Auflösung, da sehr hoher Handelswert! (Abbildungen der kompletten Kollektion im Internet).

Bei den Liquidationslosen der 110. Auktion (Lose 1500-2371) sind ausnahmsweise Untergebote bis zu max. 30% unter Ausruf möglich.

Automatically generated translation:
Bangladesh - extraordinary lot of 18 hand painted original designs to different issues till the nineties, all coloured. The desired motifs such as pigeons, bayberries and so on. Perfect for liquidation, there very high trade value! (illustrations the complete collection on the internet). By the liquidation lots the 110. Auction (lots 1500-2371) are exceptionally underbids pending max. 30% under starting price possible.
Y年m月d日@H:i