Berliner Auktionshaus Schlegel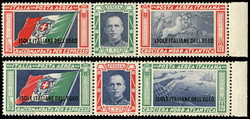 1933, 5,25+19,75 L.und 5,25+44,75 L. Geschwaderflug, postfrischer...more
1933, 5,25+19,75 L.und 5,25+44,75 L. Geschwaderflug, postfrischer Luxussatz vom rechten Bogenrand

Automatically generated translation:
1933, 5, 25 plus 19, 75 L. And 5, 25 plus 44, 75 L. Squadron flight, mint never hinged outstanding set from right margin of sheet
Berliner Auktionshaus Schlegel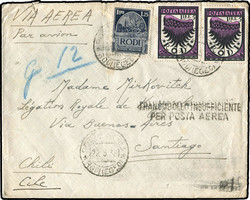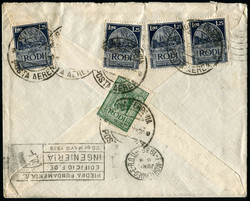 1938, 1,25 L. Landschaftsausgabe sowie 2mal 5 L. Wappen vorderseitig...more
1938, 1,25 L. Landschaftsausgabe sowie 2mal 5 L. Wappen vorderseitig auf Brief gestempelt "POSTA AERO RODI EGEO 22.3.38" sowie vier weitere Werte rückseitig (1 Marke fehlt) gestempelt ROMA "FERROVIA" auf Luftpostbrief nach Santiago de Chile mit rückseitigem Transitstempel von Montevideo. Vorderseitig befinden sich ein Nachportostempel und ein handschriftlicher Taxvermerk. Der Umschlag weist vorderseitig einen verklebten Einschnitt auf. Sehr interessantes Stück mit ausgesprochen seltener Destination.

Automatically generated translation:
1938, 1, 25 L. Landscape issue as well twice 5 L. Coat of arms on face used "POSTA aero RODI EGEO 22.3.38" as well four further values reverse (1 stamp is absent) used ROMA "FERROVIA" on air mail letter to Santiago de Chile with on the back transit postmark from Montevideo. On face find be a postage due cancel and a handwritten rate marking. The cover shows on the front a pasted up cut on. Very interesting piece with pronounced rare destination.
Current Time: Saturday May 08th 2021 - 08:50 MET