LENZ Briefmarken & Münzen
1918, 5 und 50 H., breitrandig, auf sauberer GSK 10 H., klar...more
1918, 5 und 50 H., breitrandig, auf sauberer GSK 10 H., klar "Budejovice-4.7.19", seltene Bedarfs-R-Postkarte (oben links winziger Tintenfleck) nach Bayern, AKST, seltene Versandart! Bedarf!

Automatically generated translation:
1918, 5 and 50 H, with wide margins, on neat postal stationery card 10 H, clear "Budejovice-4.7.19", scarce legitimate R postcard (top left tiny ink blot) to Bavaria, arrival postmark, scarce Delivery type! Commercial usage!
LENZ Briefmarken & Münzen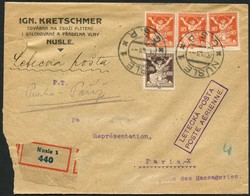 1921, R-Luftpost Brief "Nusle 25.VII.21" über Prag nach Paris,...more
1921, R-Luftpost Brief "Nusle 25.VII.21" über Prag nach Paris, seltene Normalfrankatur mit Nr. 177 und 3 x 179, mit violettem Ra2 "Letecka Posta Poste Aerienne", Öffnungsmängel

Automatically generated translation:
1921, registered airmail letter "Nusle 25. VII. 21" over Prague to Paris, scarce normal franking with no. 177 and 3 x 179, with violet box cancel of 2 lines "Letecka Posta Poste Aerienne", defects from opening the cover
LENZ Briefmarken & Münzen

1919-92, 3 Steckalben mit Teilsammlung, mit vielen Sätzen und...more
1919-92, 3 Steckalben mit Teilsammlung, mit vielen Sätzen und Blocks, ohne Spitzen

Automatically generated translation:
1919-92, 3 stockbooks with part of a collection, with many sets and souvenir sheets, without high values
Current Time: Monday May 17th 2021 - 02:29 MET