166 more pictures.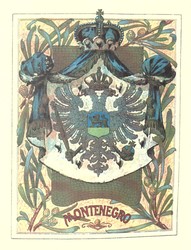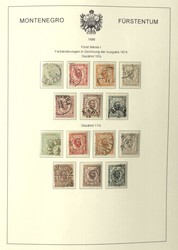 MONTENEGRO - 1874/1913, eine sehr interessante und reichhaltige...more
MONTENEGRO - 1874/1913, eine sehr interessante und reichhaltige Spezialsammlung in drei Leuchtturm-Alben sauber und gepflegte zusammengetragen mit zahlreichen gesuchten Ausgaben, Aufdruckwerten, verschiedenen Aufdrucktypen, Zähnungen, Wasserzeichen, Portomarken, Einheiten etc. Dabei auch ein besonders umfangreicher Spezialteil Ganzsachen mit vielen verschiedenen Ausgaben und Varianten, Einschreibe-Ganzsachen mit Zusatzfrankaturen, verschiedenen Abstempelungen etc. Eine großartige Kollektion dieses reizvollen Gebietes, wie sie in dieser Reichhaltigkeit und Vielfalt kaum einmal angeboten werden kann!

Automatically generated translation:
MONTENEGRO - 1874 / 1913, a very interesting and extensive special collection in three Lighthouse-albums clean and neat formed with numerous sought-after issues, overprint value, different overprint types, perforations, watermark, postage due stamps, multiples and so on. Thereby also especially extensive special part postal stationery with many different issues and variety, registered postal stationery with additional frankings, different cancellations and so on. A great collection this attractive area, like they hardly ever offered in this richness and variety become can!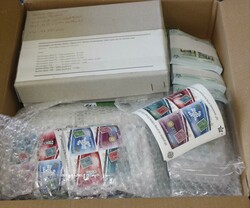 MONTENEGRO/SERBIEN - reichhaltiger Bestand von Blocks und Bogen zum...more
MONTENEGRO/SERBIEN - reichhaltiger Bestand von Blocks und Bogen zum Thema Europaunion, alles in größeren Stückzahlen, aus dem Jahr 2006. Der Katalogwert beträgt nach Angaben des Einlieferers circa 63700,- €

Automatically generated translation:
MONTENEGRO / Serbia - extensive inventory from souvenir sheets and sheet on the subject of Europe union, all in larger numbers of pieces, from the year 2006. The catalogue value amounts according to the owner approximate 63700,- €
Current Time: Saturday May 15th 2021 - 21:51 MET