Berliner Auktionshaus Schlegel
42 more pictures.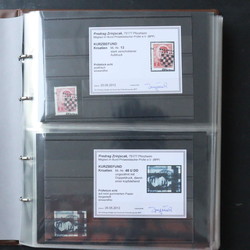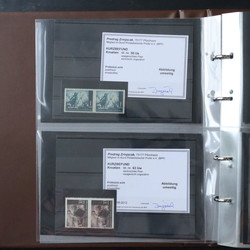 KROATIEN SPEZIALSAMMLUNG: 1941/44, attraktive Sammlung nur...more
KROATIEN SPEZIALSAMMLUNG: 1941/44, attraktive Sammlung nur postfrischer bzw. ungestempelter Marken, ca. 90 verschiedene Marken oder Markenpaare, alle mit Kurzbefund Predrag Zrinjscak BPP. Alle ohne Qualitätseinschränkung! Es sind nur Abarten, Besonderheiten bzw. Spezialitäten enthalten, u.a. ungezähnte Ausgaben, Probedrucke, Doppeldrucke, kopfstehende Aufdrucke, ungezähnte Zwischenstegpaare usw.. Dabei auch ein Probedruck für die gesuchte Sturmdivisions-Ausgabe Mi-Nr. 170-72 ungezähnt von der 1. Druckphase, wobei hier nur der Unterdruck gedruckt wurde. Diese seltene postfrische Ausgabe in Luxuserhaltung ist mit einem Farbfotoattest Predrag Zrinjsscak BPP "...Die Ausgabe ist sehr selten. Die Marke ist echt und einwandfrei..." versehen. Qualitativ hochwertiges Ausnahme-Objekt.

Automatically generated translation:
Croatia special collection: 1941 / 44, attractive collection only mint never hinged respectively unused stamps, approximate 90 various stamps or stamps pairs, all with abridged certificate Predrag Zrinjscak BPP. All without quality restriction! There are only varieties, special feature respectively specialties included, among others unperforated issues, trial proofs, double impression, inverted overprints, unperforated gutter pairs and so on. Thereby also proof for the sought storm Divisions issue Michel no. 170-72 unperforated of the 1. Print period, whereby here only the background printed was. These scarce mint never hinged issue in outstanding quality is with a certificate with colour photo Predrag Zrinjsscak BPP " … the issue is very rare. The stamp is genuine and immaculate … " provided. Qualitatively high quality exception object.
Berliner Auktionshaus Schlegel
3 more pictures.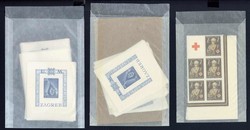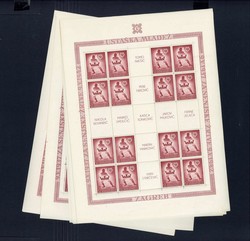 KROATIEN: 1941/42, postfrischer und ungebrauchter Dublettenbestand,...more
KROATIEN: 1941/42, postfrischer und ungebrauchter Dublettenbestand, dabei Mi-Nr. 66/68 in 5er Bogenteilen, Bl. 3 A und B je 20mal und Mi-Nr. 91/92 je in 20 kpl. Bögen mit Zierfeldern, bei der Nr. 92 einige Bögen mit Anhaftungen, überwiegend aber gute Qualität, hoher Katalogwert, bitte besichtigen

Automatically generated translation:
Croatia: 1941 / 42, mint never hinged and unused doublet stock, as well Michel no. 66 / 68 in five parts of sheets, souvenir sheet 3 An and B always 20 time and Michel no. 91 / 92 always in 20 complete sheets with ornamental fields, at the no. 92 a few sheets with adhesions, mainly but good quality, high catalog value, please have a look
Berliner Auktionshaus Schlegel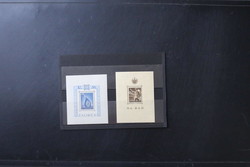 KROATIEN: 1942/44, Lot postfrischer Marken, Blocks und Kleinbogen,...more
KROATIEN: 1942/44, Lot postfrischer Marken, Blocks und Kleinbogen, dabei u.a. Bl. 3 A, 6, 7, 150-53 und 162-65 A im Klb. sowie ein weiterer Block 6 mit Randstempelung (Sonderstempel der Briefmarkenausstellung vom 15.9.43) und Unterschrift des Stechers, interessante Zusammenstellung, teils kleine Mängel

Automatically generated translation:
Croatia: 1942 / 44, lot mint never hinged stamps, souvenir sheets and miniature sheet, as well among others souvenir sheet 3 A, 6, 7, 150-53 and 162-65 An in the minature sheets. As well another souvenir sheet 6 with Randstempelung (special cancel the stamp exhibition from 15.9.43) and signatur of the engraver, interesting compilation, partly small defects
Current Time: Saturday May 08th 2021 - 08:27 MET