LENZ Briefmarken & Münzen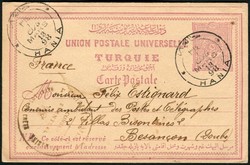 1898, "HANIA", großer K2, glasklar auf Türkei 20 Para, Pracht-GSK...more
1898, "HANIA", großer K2, glasklar auf Türkei 20 Para, Pracht-GSK nach Frankreich, rs. AKST "Besancon-18.Mars 98" mit Text "tout va bien", vs. großer, frz. Militär-Stpl. "BATAILLON DE CRETE" - Kreta Blockade, R!

Automatically generated translation:
1898, "HANIA", large two ring cancel, clear on Turkey 20 para, superb postal stationery card to France, reverse arrival postmark "Besancon-18. Mars 98" with text "tout va bien", on face large, French military stamp "battalion DE CRETE" - Crete blockade, R!
Current Time: Monday May 17th 2021 - 01:46 MET