Berliner Auktionshaus Schlegel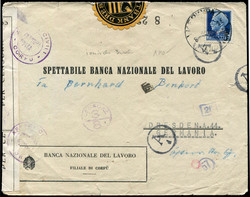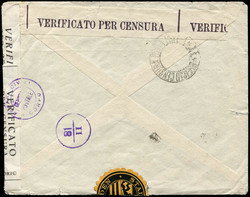 1942, italienische 1,25 Lire mit rotem Aufdruck "ISOLE IONIE" auf...more
1942, italienische 1,25 Lire mit rotem Aufdruck "ISOLE IONIE" auf Bankbrief nach Dresden. Der Brief trägt einen Verlußstreifen der italienischen Zensur sowie dem Zensurstempel von CORFU sowie den Durchlaufstempel der Prüfstelle München ("d").

Automatically generated translation:
1942, Italian 1, 25 liras with red overprint "ISOLE IONIE" on bank letter to Dresden. The letter carries a Verlußstreifen the Italian censorship as well the censorship stamp from CORFU as well the Conduit stamp the verifying authority Munich ("d").
Current Time: Saturday May 08th 2021 - 09:18 MET