WALTER FUERST PHILATELY
Postfach 103,
CH 3280 MURTEN
Switzerland

Tel +41 (0)26 670 3993
Fax + 41 (0)26 670 3992

E-Mail: walter.frst@bluewin.ch
Web: http://www.walterfuerst.com
Wir sind ein unabhängiges international vernetztes Briefmarken-Auktionshaus mit Sitz in Murten, einem schönen mittelalterlichen Städtchen westlich von Bern an der sogenannten Sprachgrenze Deutsch / Französisch.
Detaillierte Informationen über die Auktion und den Auktionskatalog finden Sie auf www.walterfuerst.com.
Wir akzeptieren PAYPAL, VISA, MC, AMEX und Bankschecks aus USA und CANADA. Weitere Details auf unserer Webseite unter "Kontakt".
Payment Options
Walter Fuerst Philately
Terms and conditions
The auction takes place voluntarily and publicly against payment in Swiss Francs against invoice, credit cards, PayPal and for USA and CANADA bank checks accepted.


The legal Swiss VAT will not be applicable to any lots purchased at auction.


WALTER FUERST PHILATELY has the right to withdraw, regroup or refuse to knock down any lot. In the event of identical bids, the one first received takes precedence. In the event of misunderstanding, the lot is reoffered.


The starting price is the minimum price in CHF (Swiss Francs)


Lots are awarded to the highest bidder by knock-down which creates an obligation to take delivery. A commission of 12% is added to the purchase price. Additionally we add shipping fees.


Written bids which are higher than the best bid of a online-bidder will be considered carefully and in the bidder's interest but without prejudice. In case of two or more identical bids, the first bid will be deemed to the successful bid.


Upon the fall of the Auctioneer's hammer, a sales contract is entered into between the Auctioneer and the bidder. The buyer is obligated to accept the goods. The risk passes to the buyer with the fall of the hammer. Title of ownership however passes to the buyer only after full payment of the total amount due.


Payment of lots is due within ten days after each auction. Postal or Commission bidders are obligated to transfer the amount due immediately on receipt of invoice. The handing over of lots can only be claimed after payment in full. The lots sold to Postal or Commission Bidders will be forwarded by mail or by other means of transport at the Bidder's wish, risk and expense.


All extensions must be cleared within 10 days after receipt or shipment of the items. Extensions for expert opinion will normally only be considered for reasons of genuineness or classification. Extension of an item is not possible, if

the item has an attestation or any expertise
all faults, defects etc. are visible in the auction catalogue or are described
the buyer changed parts of the lot or the entire lot
lots content 3 or more stamps, items, covers, cards etc.



Signatures of experts are not considered as change of an item.


Claims for genuineness or repairs at a stamp must be proved by an expert with attestation within 6 month after receipt of the item and to the buyer's costs.


Offers are accepted by FAX, email, bidding sheet or internet means.
×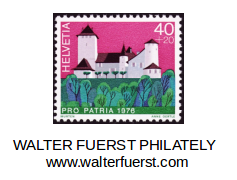 October 16th 2010
Aussergewöhnlich interessante und wertvolle Sammlungen liegen in unserer 9. Internationalen Briefmarken- und Ansichtskarten-Auktion für Sie bereit. So auch die beliebten, bestens gefüllten Schaubekalben sowie Sammlungen Altdeutschland, Fürstentum Liechtenstein und eine reiche Auswahl von Sammlungen aus der ganzen Welt. Besonders erwähnenswert sind eine hochkarätige Sammlung aus Italien sowie eine umfangreiche Fiume-Sammlung mit vielen äusserst seltenen Überdrucken und Viererblocks. Ansichtskartensammler werden ein feines Angebot aus der Schweiz und der ganzen Welt sowie seltene Belege und Ansichtskarten aus den Gebieten Heimat und Militär finden. Einzellose mit Schwergewicht Schweiz ab Vorphilatelie und Klassik sowie aus Deutschland, Fürstentum Liechtenstein, Österreich und vielen Staaten aus der ganzen Welt werden zu vernünftigen Startpreisen angeboten. Es lohnt sich, an unserer Auktion teilzunehmen ! Wir freuen uns auf Ihren Besuch.
Special Information
Short Terms and Conditions
On top of the hammer price there is a 15% buyers commission. If you pay by credit card there is an additional surcharge of 2% on the total.
Please note the Terms and Conditions
Timetable
Saalauktion Besichtigung: 1. - 3. & 9. Oktober 2010
SCHRIFTLICHE GEBOTE BIS: Freitag, 15. Oktober 2010, 12.00 Uhr
AUKTION: Samstag, 16. Oktober 2010, 08.00 Uhr bis ca. 18.00 Uhr
SWISSCOM CONFERENCE CENTER, OLTEN
NACHVERKAUF: bis Sonntag, 7. November 2010