AB Philea 348. Auktion
---
Mittwoch 18.10.2017
Los von
Los bis
Anfangszeit

CEST

Beschreibung
1
797
16:00

CEST

Schweden
798
1203
17:00

CEST

Nordische Länder, Sammlungen Europa & Alle Welt, Themen
1204
2073
17:45

CEST

Nicht nordische Länder A-Z
2074
2456
18:30

CEST

Numismatics, Gemisch
×
AB Philea: Conditions of sale

You are legally bound by your bids. Bidding at the auction implies approval of the conditions of sale.
The auction is public.
All reserves are in Swedish currency (EUR). Bids below reserve are not accepted.
The highest bidder will recieve the lot at an advance over the second highest bid. Advances are about 5 % of the amount; e.g. EUR 100 for the EUR 2000–5000 price interval.
If there is only one bidder, the bidder will receive the lot at the reserve price.
In the case of equal bids, the bid recieved first will have precedence; hence, please submit your bids as early as possible.
Please note that you may bid on several lots and limit your total purchase amount.
Buyer's commission: generally 24 %. In the coin auction, the buyer's commission is 21 %.
Lots can only be returned if the description of the lot in the auction catalogue is TO A LARGE EXTENT INCORRECT. Complaints must be made no later than a week after the receipt of the lot by the purchaser, in order for the complaint to be considered.
Credit can normally not be given. Customers known to us, will however receive any purchased material without prior payment, as long as the total purchase is no more than (approximately) EUR 100. The invoice accompanying such a delivery is to be paid within one week.
For issues not addressed above the bidder/purchaser is hereby made aware of the fact that AB PHILEA conforms to general and accepted methods of trading in the philatelic community. If in doubt about any trading issue, please contact us.
AB Philea is a member of the Swedish Society of Stamp Dealers.
×
AB Philea 348. Auktion
---
Auktionstermin: 18. Oktober 2017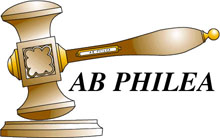 AB Philea
Svartensgatan 6
SE-116 20 Stockholm
Schweden

Telefon: +46-(0) 8-640 09 78
Fax: +46-(0) 8-643 22 38
Zahlungsmöglichkeiten:
Besondere Auktionsbedingungen:
Die Käufer-Kommission beträgt 24%.
Für Münz-Auktionen beträgt die Kommission 21%.
×
Die Käufer-Kommission beträgt 24%.
Für Münz-Auktionen beträgt die Kommission 21%.
Los 1826
Kuwait Britische Periode
Beschreibung
Kuwait (GB), SG 12-13 used, 1 and 2 R. £160
Auktion Nachverkauf
Minimum bid
31.00 EUR
Ende des Nachverkaufs:
Sonntag 19.11.2017, 23:59 CET
Aktuelle Uhrzeit (MET): 20.11.2017 - 20:59