30th Darmstaedter Briefmarkenauktion
---
Auction Date: January 22, 2011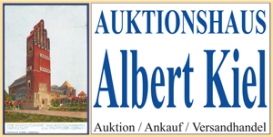 AAK Phila GmbH
Pfungstaedter Strasse 35,
64297 Darmstadt
Germany
Telefon: +49 6151 55047
Fax: +49 6151 55049
30th Darmstaedter Briefmarkenauktion
---
30. DARMSTÄDTER BRIEFMARKENAUKTION
22. Januar 2010
ORT DER VERSTEIGERUNG:
TANZSCHULE STROH
Pfungstädter Straße 32, 64297 Darmstadt-Eberstadt
genau gegenüber unseren Büroräumen
BESICHTIGUNG:
In unseren Geschäftsräumen
Pfungstädter Straße 35, 64297 Darmstadt
Donnerstag-Freitag 13.01. - .14.01.2010 10:00 – 18:00 Uhr
Montag-Freitag 17.01. - 21.01.2011 10.00 – 18.00 Uhr
Samstag 22.01.2011 (Auktionstag) ab 08.30 Uhr
Und nach telefonischer Vereinbarung!
06151 - 55047
Nutzen Sie bitte die Besichtigungstage vor der Auktion.
Am Versteigerungstag haben vorrangig auswärtige Besucher Gelegenheit zur Besichtigung. Wir bitten um Ihr Verständnis.
AUKTION:
Einzellose Briefmarken ab 09.00 Uhr
Münzen, Schmuck ab 13.00 Uhr
Briefmarken-Nachlässe+Sammlungen ab 14.00 Uhr
Bitte beachten Sie, dass am Auktionstag keine Auskünfte zu der laufenden Auktion erteilt werden können. Dies gilt insbesondere für telefonische Auskünfte über Zuschläge eingelieferter Lose oder für Interessenten von Rücklosen.
×
Payment Options:
Imprint and Information for Online Disputes
Information for Online Disputes
"Online Dispute Resolution" (ODR platform by EU regulation)

Link to EU online dispute resolution (splatform)

Information according to Paragraph. 14 of EU Regulation no. 524/2013 (ODR Regulation)
Information for online dispute resolution:
The European Commission presents from 15.02.2016 an Internet platform for online dispute settlement (so-called "ODR platform") as a focal point for the extrajudicial settlement of disputes concerning contractual obligations arising from online contracts on goods or services used.
The EU Commission OS platform can be accessed at the link:
http://ec.europa.eu/consumers/odr
We can be reached via e-mail address: albert.kiel@kiel-briefmarken.de
---
×