Christ-Stamps specialized auction German Empire 1933-1945. January 29
---
Auction Date: Jan 29, 2012
Live-Auction from: 29.01.2012 at 15:00 CET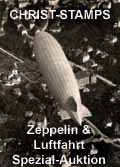 Phila-Live Online Auktionen
Christ-Stamps
Walter Christ
Heidestraße 24
90451 Nürnberg
Germany
Tel.: (49) 911 6693222
Fax: (49) 911 6693504
Payment Options:
Imprint and Information for Online Disputes
Information for Online Disputes
"
Online-Streitschlichtung" (OS-Plattform nach EU-VO)
Link zur Online-Streitschlichtung(splattform) der EU
Informationspflicht lt. Art. 14 der EU-Verordnung Nr. 524/2013 (ODR-VO)
Information zur Online-Streitbeilegung: Die EU-Kommission stellt ab dem 1. Quartal 2016 eine Internet-Plattform zur Online-Beilegung von Streitigkeiten (sogenannte "OS-Plattform") bereit, die als Anlaufstelle zur außergerichtlichen Beilegung von Streitigkeiten betreffend vertraglichen Verpflichtungen, die aus Online-Verträgen über Waren oder Dienstleistungen erwachsen, dient.
Die OS-Plattform der EU-Kommission ist erreichbar unter dem Link: http://ec.europa.eu/consumers/odr
Wir sind erreichbar über die E-Mail-Adresse: christ-stamps@briefmarke.com
---
Imprint
CHRIST-STAMPS
Heidestraße 24
90451 Nürnberg
Telefon:
+
(49) 911 6693222
Fax:
+(49) 911 6693504
E-Mail:
Christ.Stamps@briefmarke.com
Internet:
www.Christ-Stamps.com
Inhaber:
Walter Christ
Steuer-Nr.:
240/209/20625 Finanzamt Nürnberg Süd
Umsatzsteuer-Identifikationsnummer gemäß § 27 a Umsatzsteuergesetz:
DE 812062633
Inhaltlich Verantwortlicher gemäß § 6 MDStV:
Walter Christ
×
No results were found matching the search criteria!
×
Current time: Wednesday 26th 2016 October 2016 - 19:10h MET (S)