49th Deider Stamps- and Coins Auction
---
Auction Date: October 14 - 15, 2011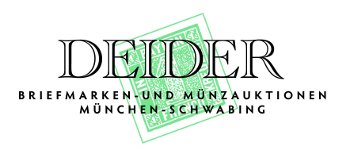 Deider Briefmarkenauktionen
Nordendstraße 56
80801 München-Schwabing

Telefon: +49 89 272 25 55
Telefax: +49 89 271 84 27
49th Deider Stamps- and Coins Auction
---
Freitag, 14. Oktober 2011
Beginn 9:00 Uhr
Los-Nummer 1 – 3424 Bayern – Übersee Pausen nach Bedarf
Samstag, 15. Oktober 2011
Beginn 9:00 Uhr
Los Nummer 4000 – 4959 Österreich
ab 12:30 Uhr
Los-Nummer 5000 – 5890 Sammlungen Posten, Nachlasse
×
Payment Options:
Versteigerungsbedingungen
für Online-Fernauktionen
die auch ohne schriftliche Anerkennung bei Einsendung von Geboten, Erteilungen von Kaufaufträgen oder Geboten per E-Mail für die Auktion ausschließlich maßgebend sind.
1. Die Versteigerung ist freiwillig, unter Ausschluss der Öffentlichkeit, aufgrund von schriftlichen oder fernmündlichen Geboten.
2. Der Versteigerer handelt in fremdem Namen und für fremde Rechnung. Der Versteigerer ist berechtigt, die Rechte des Einlieferers aus dessen Auftrag und aus dem Zuschlag im Namen des Einlieferers geltend zu machen. Mit dem Zuschlag kommt ein Kaufvertrag zwischen dem Einlieferer und dem Ersteigerer zustande. Der Versteigerer ist auf Verlangen des Einlieferers oder des Erwerbers zur Namhaftmachung des jeweils anderen Vertragspartners rechtlich verpflichtet.
3. Der Versteigerer behält sich das Recht vor, während der Versteigerung – unter Wahrung der Interessen der Einlieferer – Nummern des Kataloges zu vereinen, zu trennen, außerhalb der Reihenfolge anzubieten oder zurückzuziehen.
4. Die zur Versteigerung kommenden Sachen können vor der Auktion besichtigt und geprüft werden. Für die nach bestem Wissen und Gewissen vorgenommenen Katalogbeschreibungen wird vom Versteigerer keine Garantie im Rechtssinne übernommen. Bei Sammellosen beziehen sich die dazu gemachten Angaben nicht auf eine vertraglich vereinbarte Beschaffenheit im kaufrechtlichen Sinne. Der Auktionator übernimmt auch keinerlei Garantie für einzelne Marken und deren Qualitäten, wenn diese aus Sammellosen stammen. Formulierungen wie "postfrisch" oder "komplett" geben den Eindruck von Stichproben wieder, sind aber keinerlei Zusicherung. Alle Sammellose werden nur so versteigert, wie sie sind. Bei Einzellosen kann der Käufer, der Unternehmer ist, d en Versteigerer nicht wegen Sachmängeln in Anspruch nehmen, wenn dieser seine Sorgfaltspflichten erfüllt hat. Der Versteigerer wird aber bei begründeten Beanstandungen, die ihm spätestens 3 Wochen nach Auktionsschluss angezeigt werden, innerhalb einer Frist von 12 Monaten seine Mängelansprüche gegen den Einlieferer geltend machen. Im Falle erfolgreicher Inanspruchnahme erstattet er dem Käufer den Kaufpreis, einschließlich Aufgeld; ein weitergehender Anspruch, auch auf Erstattung von Prüf- und Portoauslagen oder Zinsen, ist ausgeschlossen. Lediglich im Falle einer Fälschung oder Verfälschung erstattet der Auktionator die Kosten eines BPP-Prüfers.
Die Haftung für Körper- und Gesundheitsschäden bleibt unberührt.
5. Den Zuschlag erhält der Meistbietende interessewahrend, d.h. eine Steigerungsstufe über dem zweithöchstem Gebot, wenn kein Gegengebot vorliegt, zum Ausruf. Bei gleich hohen Geboten erhält der Erstbietende den Zuschlag. Der Versteigerer kann den Zuschlag in begründeten Fällen verweigern oder unter Vorbehalt erteilen. Er kann den Zuschlag zurücknehmen und die Sache erneut ausbieten, wenn ein rechtzeitig abgegebenes Gebot übersehen worden ist oder wenn der Höchstbietende sein Gebot nicht gelten lassen will oder sonstige Zweifel über den Zuschlag bestehen. Bei Vorbehaltszuschlägen ist der Bieter bis zur Klärung mit dem Einlieferer an sein Gebot gebunden, mindestens jedoch 6 Wochen; das Gleiche gilt bei Abgabe von Untergeboten und für Erwerbe im Nachverkauf.
6. Mit der Erteilung des Zuschlags geht die Gefahr für nicht zu vertretende Verluste oder Beschädigungen auf den Erwerber über. Das Eigentum an der ersteigerten Sache wird erst mit vollständigem Zahlungseingang beim Auktionshaus auf den Erwerber übertragen.
7. Der Zuschlag verpflichtet zur Abnahme. Die Sachen sind sofort nach der Versteigerung in Empfang zu nehmen. Falls der Erwerber Versendung wünscht, geht sie auf seine Kosten. Falls der Erwerber Unternehmer ist, geht die Gefahr in diesem Falle bereits mit der Übergabe an den Spediteur oder eine sonst zum Versand bestimmte Person oder Anstalt über. Sofern ein Versand, z.B. aufgrund nicht erfüllbarer zollrechtlicher Vorschriften, nicht möglich oder zumutbar ist, entscheidet der Auktionator nach eigenem Ermessen, nicht zu versenden, sondern dem Käufer lediglich die ersteigerten Lose zur Abholung bereitzustellen. In diesem Falle muss der Käufer das ersteigerte Gut auf eigene Kosten beim Auktionator abholen oder durch Dritte abholen lassen.
8. Der Versteigerer erhält vom Käufer eine Provision von 20 % des Zuschlagpreises sowie €uro 2.— pro Los. Bei schriftlichen Bietern wird das Porto und die Versicherungspauschale gesondert berechnet. Die gesetzliche Mehrwertsteuer von z.Zt. 19 % wird nur auf die Nebenkosten (Aufgeld, Losgebühr, Porto etc.) berechnet, weil eine reine Vermittlungsleistung erbracht wird. Für Vermittlungsleistungen an Geschäftskunden aus anderen EU-Ländern mit Ust.-Nr. wird das Reverse-Charge-Verfahren angewendet, d.h. die Provisionen, die Losgebühren und die sonstigen Kosten unterliegen nicht der deutschen Umsatzsteuer. Der Kunde ist in diesen Fällen verpflichtet, die Umsatzsteuer auf diese Entgelte in seinem Heimatland zu entrichten. Für Vermittlungsleistungen an Geschäftskunden aus einem Drittland fällt keine Umsatzsteuer an, wenn die Unternehmer-Eigenschaft in geeigneter Weise nachgewiesen wird. Während der Auktion ausgestellte Rechnungen gelten nur vorbehaltlich einer Nachprüfung auf Irrtümer.
9. Der Rechnungsbetrag ist mit dem Zuschlag fällig und zahlbar in bar oder durch bankbestätigten Scheck. Zahlungen auswärtiger Erwerber, die schriftlich oder telefonisch geboten haben, sind binnen 10 Tagen nach Rechnungsdatum fällig. Bei Kauf für einen Dritten haftet der Bieter mit diesem als Gesamtschuldner.
10. Bei Zahlungsverzug werden Zinsen in Höhe von 2 % pro Monat als Verzugsschaden berechnet. Im übrigen kann das Auktionshaus wahlweise Erfüllung oder nach Fristsetzung Schadensersatz wegen Nichterfüllung verlangen; der Schadensersatz kann dabei auch so berechnet werden, dass die Sache in einer weiteren Auktion nochmals versteigert wird und der säumige Käufer für einen Mindererlös gegenüber der früheren Versteigerung und die besonderen Kosten der wiederholten Versteigerung einschließlich der Gebühren des Versteigerers aufzukommen hat.
11. Schriftliche Kaufgebote oder solche per Email werden stets interessewahrend, jedoch ohne Gewähr, ausgeführt. Best- oder Höchstgebote werden bis zum fünffachen Ausrufpreis mitgesteigert. "Gebots"-Lose werden zum Höchstgebot zugeschlagen und können nicht mit in eine eventuelle Kaufpreisbegrenzung bzw. Gebotslimitierung einbezogen werden. Gebote auf "Gebots"-Lose werden auch in solchen Fällen davon unabhängig durchgeführt.
12. Solange Kataloginhaber, Auktionsteilnehmer und Bieter sich nicht gegenteilig äußern, versichern sie, dass sie den Katalog und die darin abgebildeten Gegenstände aus der Zeit des III. Reiches nur zu Zwecken der staatsbürgerlichen Aufklärung, der Abwehr verfassungswidriger Bestrebung, der Kunst oder der Wissenschaft, der Forschung oder der Lehre, der Berichterstattung über Vorgänge des Zeitgeschehens oder der Geschichte oder ähnlichen Zwecken erwerben (§§ 86a, 86 Strafgesetzbuch). Die Fa. Deider Briefmarken- und Münzauktionen und Einlieferer bieten und geben diese Gegenstände nur unter diesen Voraussetzungen an bzw. ab.
13. Erfüllungsort und Gerichtsstand für den kaufmännischen Verkehr ist München. Es gilt deutsches Recht; das UN-Abkommen zu Verträgen über den Internationalen Warenkauf (CISG) wird ausgeschlossen.
14. Vorstehende Bedingungen gelten sinngemäß auch für den Nachverkauf. Die Bestimmungen über Verkäufe im Fernabsatz finden keine Anwendung. Sollte eine der vorstehenden Bedingungen ganz oder teilweise unwirksam sein, bleibt die Gültigkeit der übrigen davon unberührt.
Stand: Januar 2015
Siegfried Deider
Von der Landeshauptstadt München öffentlich bestellter und vereidigter
Versteigerer
×
Imprint and Information for Online Disputes
Information for Online Disputes
"Online Dispute Resolution" (ODR platform by EU regulation)

Link to EU online dispute resolution (splatform)

Information according to Paragraph. 14 of EU Regulation no. 524/2013 (ODR Regulation)
Information for online dispute resolution:
The European Commission presents from 15.02.2016 an Internet platform for online dispute settlement (so-called "ODR platform") as a focal point for the extrajudicial settlement of disputes concerning contractual obligations arising from online contracts on goods or services used.
The EU Commission OS platform can be accessed at the link:
http://ec.europa.eu/consumers/odr
We can be reached via e-mail address: deider@ngi.de
---
×
No results were found matching the search criteria!
×
Current time: Friday 29th 2016 July 2016 - 23:42h MET (S)