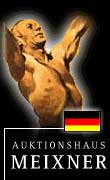 Auktionshaus Meixner
Inh. Franz Meixner
Lindwurmstr. 126a
80337 München

Telefon +49 89 7250707
Telefax +49 89 7211807
More Auction House Information
Payment Options:
For Auction purchase please note:
Auction Conditions and Terms

for direct purchases please note:
Conditions and Terms for direct purchases
Auction Conditions And Terms
1.
The auction is carried out voluntary and open to the public under an assumed name and for assumed invoice, excluding owned goods, for immediate payment in EUR (EuroEUR). Checks are being taken as a trade-in, in regard to unknown customers only confirmed bank checks are accepted.
2.
The acceptance to the bid goes to the person who bids the most after a three-time proclamation. The auctioneer has the right to refuse the acceptance to the bid, to withdraw lots, to regroup or split up. If there are equal bids, the lot decides. If there are misunderstandings, the auctioneer has the right to offer the lots once again.
3.
The provision for the auctioneer from the buyer is 20% of the price of the acceptance of the bid. Additionally, a lot fee of EUR 1.80 per lot will be charged. Possible packing & delivery charges as well as insurance are being charged separately.
Finally we charge the presently valid legal value added tax on the surcharges (provision, lot fee etc.) we demand. VAT on the auctioneer's commission and expenses will be charged separately and is payable by all buyers regardless of their country of residence and regardless of where the Iots are handed over or delivered.

The minimum bids are:

| | | | | | | | | |
| --- | --- | --- | --- | --- | --- | --- | --- | --- |
| | | | up to | EUR | 50,- | = | EUR | 2,- |
| from | EUR | 50,- | up to | EUR | 100,- | = | EUR | 5,- |
| from | EUR | 100,- | up to | EUR | 500,- | = | EUR | 10,- |
| from | EUR | 500,- | up to | EUR | 1000,- | = | EUR | 20,- |
| from | EUR | 1000,- | up to | EUR | 5000,- | = | EUR | 50,- |
| from | EUR | 5000,- | up to | EUR | 10.000,- | = | EUR | 100,- |
| | | | over | EUR | 10.000,- | = | EUR | 500,- |

4.
The acceptance to the bid commits to purchase. The buyer takes the risk as of the placement of the acceptance to the bid. Who bids for a third person is, besides the third person, responsible as own debtor. The delivery of the bought lots is being made on account and at the buyer's own risk. The seller holds the lots until the buyer pays the full amount.
5.
As soon as there are no special arrangements and payment is not being made immediately after delivery of the invoice or if delivery is refused, the buyer looses his right of acceptance to the bid and the lots can be sold freehand without any further notice or auctioned again at the buyer's costs. In this case, the first buyer can be hold responsible for lost profit or for possible minimum proceeds. Nevertheless, he does not have any rights in case of possibly achieved additional proceeds and can eventually be excluded from further bids by the auctioneer. If payment is being made too late, we reserve our rights to charge an interest of 2 % over the present valid discount rate.
6.
Invoices overdue as well as possible extra payments can be collected or sued for by the auctioneer in his own name.
7.
The action lots are carefully and conscientiously described, but without any commitment for the auctioneer and without guarantee for genuineness. Claims are being taken care of on account of the deliverer. The auctioneer is entitled but not obliged to refer the buyer with all complaints to the deliverer.
8.
Complaints have to be send to the auctioneer within 8 days after takeover or delivery at latest together with the stamps complained about. Lots and stamps have to be unchanged, i. e. in their original condition. Each complaint is ruled out if the lots or stamps are no longer in their original condition, i. e., unchanged. Changes are especially:
9.
Detachment, water treatment, chemicals, etc.. All costs for complaints and verifications are not being reimbursed to the buyer. The marking of counterfeitings through appropriate Federal Inspectors is not regarded as a change. Already existing certificates - if not agreed upon different before the auction - will be recognized. The auctioneer is entitled but is not obliged to refer the buyer with all its complaints to the deliverer. Complaints in regard to collections and collective lots are basically excluded. If objects already auctioned should be checked from specialists, this has to be told to the auctioneer within the above 7-day period in written form.
10.
"Hall bidders" buy basically "as looked at" and can only claim hidden faults, but not cut, perforations, postmarks, etc.. This is also valid for buys through third persons (representatives or commission agents). The one who buys already inspected stamps or lets them buy does not buy "as described" but " as looked at". Our quality descriptions "fine, finer, glamour-, cabinet- or luxury piece" are our personal classifications and cannot be claimed under no circumstances. Complaints in regard to collections and collective lots are basically excluded. The pictures of the things shown in the catalogue is decisive for the lay-out, so e. g. margin, perforations, centralisation or stamp of this picture.
11.
Claims of every kind against the deliverer and the auctioneer expire six month after the auction at the latest. Identification of delivering clients against the bidders is guaranteed in both directions.
12.
Written orders and telephone orders, which must be confirmed in written, will be conscientiously handled from our side but without any guarantee. In regard to "best or highest bids" or similar, we also bid until the three-time proclamation. These lots, too, have no right to strictly necessary delivery.
13.
The auctioneer has all rights reserved to exclude persons from the auction without mentioning any reasons.
14.
By giving bids or orders these auction conditions are being accepted by the bidder.
Conditions and Terms for direct purchases:
Allgemeine Geschäftsbedingungen der Firma Meixner
für über Fernkommunikationsmittel angebahnte Geschäfte (Stand Juli 2011).
Die Firma Auktionshaus Meixner, Lindwurmstr. 126a, 80337 München vertreten durch Franz Meixner, betreibt unter der URL http://www.meixner.de
eine Verkaufsplattform für Briefmarken und -zubehör. Ebenso werden die Artikel über die Plattform www.philasearch.com angeboten.
Die Verkaufsplattform unter der oben genannten URL steht in deutscher Sprache zur Verfügung. Der Vertragstext wird nach dem Abschluss des Vertrages bei Franz Meixner insofern gespeichert, als die Bestellangaben aufbewahrt werden.
Die in diesen Allgemeinen Geschäftsbedingungen ("AGB") verwendeten nachstehenden Begriffe haben – einschließlich Ihrer Pluralformen – nachfolgende Bedeutung:
Kunde: Eine natürliche oder juristische Person oder Personengesellschaft, die mit Franz Meixner einen Kaufvertrag abschließt.
Verbraucher: Eine natürliche Person, die bei Abschluss des Kaufvertrages nicht zum Zweck ihrer gewerblichen oder selbständigen beruflichen Tätigkeit handelt.
Unternehmer: Eine natürliche oder juristische Person oder eine Personengesellschaft, die bei Abschluss des Kaufvertrages in Ausübung ihrer gewerblichen oder selbständigen beruflichen Tätigkeit handelt.
Kaufvertrag: Der Vertrag zwischen Franz Meixner und dem Kunden über den Bezug von Waren.
1. Geltungsbereich
Die AGB gelten für die Kaufverträge zwischen der Franz Meixner und den Kunden ausschließlich, abweichende oder entgegenstehende Bedingungen des Kunden werden nicht anerkannt, es sei denn, Franz Meixner hat diesen im Einzelfall schriftlich zugestimmt.
2. Zustandekommen des Vertrages
2.1 Die Darstellung des Warensortiments auf der Plattform stellt kein rechtlich bindendes Angebot sondern eine unverbindliche Information dar.
2.2 Der Kunde bestellt (sog. "Vertragserklärung") die von ihm gewünschten Waren durch Absendung der in der Bestellmaske im Internet vollständig auszufüllenden Angaben. Der Kunde kann seine Angaben vor Absendung der Angaben noch einmal überprüfen und ggf. korrigieren; nach Absendung erhält der Kunde umgehend eine E-Mail, die den Zugang der Bestellung bestätigt, dabei handelt es sich noch nicht um die Annahme der Bestellung durch Franz Meixner.
2.3 Der Vertrag kommt erst zustande, wenn Franz Meixner die Vertragserklärung annimmt, indem dem Kunden eine entsprechende Annahmeerklärung zugeht und der Kunde zur Zahlung des Kaufpreises oder Mitteilung seiner Kreditkarteninformationen gebeten wird.
3. Kaufpreis, Fälligkeit, Bezahlung und Verzug
3.1 Die auf der Plattform angegebenen Verkaufspreise verstehen sich einschließlich Mehrwertsteuer (soweit anfallend) zzgl. Verpackungskosten, Versand (eingeschriebener Brief oder Postpaket) und Versicherung sowie Steuern, Zölle, Abgaben (zum Selbstkostenpreis).
3.2 Der Kaufpreis wird sofort mit Abschluss des Kaufvertrages fällig. Die Zahlung des Kaufpreises erfolgt durch eine zum Zeitpunkt des Vertragsschlusses von Franz Meixner akzeptierte Kreditkarte oder per Lastschrift oder per Nachnahme in bar.
3.3 Kommt der Kunde in Verzug, ist Franz Meixner berechtigt, die gesetzlichen Verzugszinsen (i.H.v. 5 % pro Jahr über dem jeweiligen Basiszinssatz bei einem Verbraucher und i.H.v. 8 % pro Jahr über dem jeweiligen Basiszinssatz bei einem Unternehmer im Falle von Entgeltforderungen) zu verlangen. Das Recht von Franz Meixner, einen tatsächlich höheren Schaden geltend zu machen, bleibt hiervon unberührt.
4. Widerrufsrecht und Widerrufsfolgen
Ist der Kunde Verbraucher stehen ihm die nachfolgenden Widerrufsrechte zu.
4.1 Widerrufsbelehrung
Sie können Ihre Vertragserklärung innerhalb von 14 Tagen ohne Angabe von Gründen in Textform (z. B. Brief, Fax, E-Mail) oder - wenn Ihnen die Sache vor Fristablauf überlassen wird - durch Rücksendung der Sache widerrufen. Die Frist beginnt nach Erhalt dieser Belehrung in Textform, jedoch nicht vor Eingang der Ware beim Empfänger (bei der wiederkehrenden Lieferung gleichartiger Waren nicht vor dem Eingang der ersten Teillieferung) und auch nicht vor Erfüllung unserer Informationspflichten gemäß Artikel 246 § 2 in Verbindung mit § 1 Abs. 1 und 2 EGBGB sowie unserer Pflichten gemäß § 312e Abs. 1 Satz 1 BGB in Verbindung mit Artikel 246 § 3 EGBGB. Zur Wahrung der Widerrufsfrist genügt die rechtzeitige Absendung des Widerrufs oder der Sache.
Der Widerruf ist zu richten an:
Auktionshaus Meixner
Geschäftsführer: Franz Meixner
Lindwurmstr. 126a
80337 München
Deutschland
E-Mail: meixner@philasearch.com
Telefax: (0049) 89 7250707
Das Widerrufsrecht besteht nicht bei der Lieferung von Waren, die nach den Vorgaben des Kunden angefertigt werden oder eindeutig auf die persönlichen Verhältnisse des Kunden zugeschnitten sind oder aufgrund der Beschaffenheit nicht für eine Rücksendung geeignet sind sowie für die Lieferung von Audio- oder Videoaufzeichnungen oder von Software, sofern der Kunde die versiegelte Packung öffnet oder beschädigt (Entsiegelung) und bei Lieferung von Zeitungen, Zeitschriften und Illustrierten.
4.2 Widerrufsfolgen
Im Falle eines wirksamen Widerrufs sind die beiderseits empfangenen Leistungen zurückzugewähren und ggf. gezogene Nutzungen (z. B. Zinsen) herauszugeben. Können Sie uns die empfangene Leistung ganz oder teilweise nicht oder nur in verschlechtertem Zustand zurückgewähren, müssen Sie uns insoweit ggf. Wertersatz leisten. Bei der Überlassung von Sachen gilt dies nicht, wenn die Verschlechterung der Sache ausschließlich auf deren Prüfung - wie sie Ihnen etwa im Ladengeschäft möglich gewesen wäre - zurückzuführen ist. Im Übrigen können Sie die Pflicht zum Wertersatz für eine durch die bestimmungsgemäße Ingebrauchnahme der Sache entstandene Verschlechterung vermeiden, indem Sie die Sache nicht wie Ihr Eigentum in Gebrauch nehmen und alles unterlassen, was deren Wert beeinträchtigt. Paketversandfähige Sachen sind auf unsere Gefahr zurückzusenden. Sie haben die Kosten der Rücksendung zu tragen, wenn die gelieferte Ware der bestellten entspricht und wenn der Preis der zurückzusendenden Sache einen Betrag von 40 Euro nicht übersteigt oder wenn Sie bei einem höheren Preis der Sache zum Zeitpunkt des Widerrufs noch nicht die Gegenleistung oder eine vertraglich vereinbarte Teilzahlung erbracht haben. Anderenfalls ist die Rücksendung für Sie kostenfrei. Nicht paketversandfähige Sachen werden bei Ihnen abgeholt. Verpflichtungen zur Erstattung von Zahlungen müssen innerhalb von 30 Tagen erfüllt werden. Die Frist beginnt für Sie mit der Absendung Ihrer Widerrufserklärung oder der Sache, für uns mit deren Empfang.
5. Eigentumsvorbehalt
5.1 Die von Franz Meixner ausgelieferten Waren bleiben bis zur Erfüllung sämtlicher Forderungen aus dem Kaufvertrag zwischen dem Kunden und Franz Meixner als Vorbehaltsware im Eigentum von Franz Meixner.
5.2 Vor Übergang des Eigentums wird der Kunde über die Waren nur mit vorheriger schriftlicher Zustimmung von Franz Meixner verfügen. Bei Zugriffen Dritter, insbesondere bei Pfändung der Ware hat der Kunde Franz Meixner sofort schriftlich Meldung zu machen und den Dritten unverzüglich auf das Vorbehaltseigentum von Franz Meixner hinzuweisen.
6. Gewährleistung
6.1 Franz Meixner gewährleistet, dass die Waren nicht mit Sachmängeln im Sinne des Bürgerlichen Gesetzbuches behaftet sind. Dem Kunden stehen im Fall der Mangelhaftigkeit die gesetzlichen Gewährleistungsrechte zu, soweit sich nicht aus nachstehenden Regelungen etwas anders ergibt.
6.2 Ist der Kunde Unternehmer, so gilt zudem folgendes, wenn es sich um neue Ware handelt – bei gebrauchter Ware sind Gewährleistungsrechte eines Unternehmers (mit Ausnahme von Schadensersatzansprüchen gemäß Ziff. 7) ausgeschlossen:
6.2.1 Der Kunde muss – sofern er Kaufmann ist – seinen Rügeobliegenheiten nach § 377 HGB nachkommen. Offensichtliche Mängel sind Franz Meixner unverzüglich, spätestens aber binnen 7 Tagen nach Empfang der Ware schriftlich anzuzeigen. Versteckte Mängel sind Franz Meixner ebenfalls unverzüglich, spätestens aber binnen 7 Tagen nach Entdeckung des Mangels schriftlich anzuzeigen. Unterbleibt diese Anzeige, so gilt die Lieferung als einwandfrei und genehmigt.
6.2.2. Zeigt der Kunde einen Mangel rechtzeitig an, so hat er nach Wahl von Franz Meixner Anspruch auf unentgeltliche Beseitigung des Mangels oder Lieferung einer mangelfreien Sache (Nacherfüllung). Franz Meixner kann eine Art der Nacherfüllung oder die gesamte Nacherfüllung verweigern, wenn sie nur mit unverhältnismäßigen Kosten möglich ist.
6.2.3 Schlägt die Nacherfüllung gem. Ziff. 6.2.2 fehl oder wird sie verweigert, kann der Kunde nach seiner Wahl vom Vertrag zurücktreten oder die Vergütung herabsetzen. Die Nacherfüllung gilt frühestens dann als fehlgeschlagen, wenn drei Versuche erfolglos geblieben sind.
6.2.4 Rücksendungen von mangelhafter Ware an Franz Meixner zum Zwecke der Nacherfüllung dürfen nur mit schriftlicher Zustimmung von Franz Meixner erfolgen. Die Gefahr des zufälligen Untergangs und der zufälligen Verschlechterung der zurückgegebenen Ware geht erst mit Übergabe am Geschäftssitz von Franz Meixner auf diese über. Liefert Franz Meixner zum Zwecke der Nacherfüllung eine Ersatzsache, so hat der Kunde die ursprünglich gelieferte Sache unverzüglich zurückzugewähren. Ersetzte Teile werden Eigentum von Franz Meixner.
6.2.5 Mängelansprüche verjähren in 12 Monaten ab Ablieferung der Ware, es sei denn der Mangel wurde arglistig verschwiegen oder betrifft eine Garantie für die Beschaffenheit der Sache.
6.3 Bei gebrauchter Ware verjähren Gewährleistungsansprüche des Kunden in 12 Monaten ab gesetzlichem Verjährungsbeginn; sonst nach den gesetzlichen Bestimmungen.
6.4 Franz Meixner haftet auf Schadensersatz für Mängel nur nach den Bestimmungen der Ziff. 7.
7. Haftung
7.1 Franz Meixner haftet unbeschränkt für Vorsatz und grobe Fahrlässigkeit. Im Falle der leicht fahrlässigen Verletzung einer Pflicht, deren Verletzung die Erreichung des Vertragszwecks gefährdet oder deren Erfüllung die ordnungsgemäße Durchführung des Vertrages überhaupt erst ermöglicht und auf deren Einhaltung der Kunde vertrauen durfte ("Kardinalpflicht"), ist die Haftung auf vorhersehbare, vertragstypische Schäden begrenzt.
7.2 Bei leicht fahrlässiger Verletzung von Nebenpflichten, die keine Kardinalpflichten sind, haftet Franz Meixner nicht.
7.3 Für die Fälle der anfänglichen Unmöglichkeit haftet Franz Meixner nur, wenn ihr das Leistungshindernis bekannt war oder die Unkenntnis auf grober Fahrlässigkeit beruht, sofern dadurch keine Kardinalpflicht betroffen ist.
7.4 Die vorstehenden Haftungsausschlüsse gelten nicht bei arglistigem Verschweigen von Mängeln oder bei Übernahme einer Beschaffenheitsgarantie, für die Haftung für Ansprüche aufgrund des Produkthaftungsgesetzes sowie für Körperschäden (Leben, Körper, Gesundheit). Eine Änderung der Beweislast zum Nachteil des Kunden ist hiermit nicht verbunden.
7.5 Soweit die Haftung von Franz Meixner ausgeschlossen oder beschränkt ist, gilt dies auch für die persönliche Haftung ihrer Angestellten, Arbeitnehmer, Mitarbeiter, Vertreter und Erfüllungsgehilfen.
7.6. Mit Ausnahme von Ansprüchen aus unerlaubter Handlung verjähren Schadenersatzansprüche des Kunden, sofern dieser Unternehmer ist und für die nach dieser Ziffer die Haftung beschränkt ist, in einem Jahr gerechnet ab dem gesetzlichen Verjährungsbeginn. Für Kunden, die Verbraucher sind gelten die gesetzlichen Verjährungsfristen.
8. Datenschutz
8.1 Die personenbezogenen Daten können gemäß der Datenschutzerklärung durch Franz Meixner dazu genutzt werden, um den geschlossenen Kaufvertrag und etwaige Folgeansprüche abzuwickeln, um den Kunden über aktuelle Entwicklungen und Angebote zu informieren soweit der Nutzer hierzu sein Einverständnis erklärt hat. Franz Meixner ist im Rahmen der Erbringung ihrer Leistungen berechtigt, personenbezogene Daten an ihre Zahlungsverkehrs-, Logistik- und Transportdienstleister in dem Umfang weiterzugeben, wie es für die Erbringung der beauftragten Dienstleistung und die Vertragserfüllung erforderlich ist.
9. Übertragung, Aufrechung, Zurückbehaltungsrecht, Anwendbares Recht, Gerichtsstand, Schiedsverfahren
9.1 Soweit nicht anderweitig vereinbart, bedarf die Übertragung von Rechten und Pflichten aus diesem Vertrag durch den Kunden auf einen Dritten der vorherigen schriftlichen Zustimmung von Franz Meixner. Franz Meixner wird diese Zustimmung nur aus wichtigem Grund versagen.
9.2 Die Aufrechnung des Kunden ist ausgeschlossen, soweit die Gegenforderung nicht rechtskräftig festgestellt, entscheidungsreif oder unbestritten ist. Gegenüber Forderungen von Franz Meixner kann der Kunde im Übrigen, sofern er Unternehmer ist, ein Zurückbehaltungsrecht nur geltend machen, soweit es auf unbestrittenen, entscheidungsreifen oder rechtskräftig festgestellten Forderungen aus dem selben Vertragsverhältnis beruht.
9.3 Der Kaufvertrag unterliegt ausschließlich dem materiellen Recht der Bundesrepublik Deutschland unter Ausschluss des UN-Übereinkommens über den Kauf beweglicher Sachen.
9.4 Wenn der Kunde Kaufmann ist, ist für sämtliche im Rahmen der Durchführung des Kaufvertrages entstehenden Streitigkeiten das Gericht am Sitz von Franz Meixner ausschließlich zuständig und Erfüllungsort ist Nürnberg. Gleiches gilt, wenn der Kunde keinen Sitz in einem Mitgliedstaat der Europäischen Union hat. Franz Meixner ist in diesen Fällen auch berechtigt den Kunden an jedem anderen zulässigen und zuständigen Gericht zu verklagen oder als Klägerin ein Schiedsgericht mit Sitz in München anzurufen. Im Falle der Entscheidung durch ein Schiedsgericht, entscheidet dies endgültig nach den Verfahrensregelungen der Deutschen Institution für Schiedsgerichtsbarkeit (DIS); die Anzahl der Schiedsrichter beträgt drei, Verfahrensort ist München und Verfahrenssprache deutsch.
Zahlungsmöglichkeiten:
Wir akzeptieren Banküberweisung, sowie Paypal Zahlungen.
Versandkosten:
Bitte beachten: Alle Einschreiben und Paketsendungen sind durch unsere Versandversicherung für Sie kostenfrei versichert!.
Sendungen über 800 Euro Wert werden aus Versicherungsgründen nur als Paket versandt.
Das Porto wird individuell für Sie berechnet. Mehrere Artikel werden selbstverständlich zusammengefasst.
Versandkosten Deutschland

unversicherter Versand. Warenwert bis 25 Euro. Kompaktbrief bis 50 gr,
unversicherter Versand. Warenwert bis 25 Euro. Briefumschlag bis 500 gr,
Warenwert über 25 Euro. Pauschal.

1,- €

2,- €

4,50 €
Versandkosten Ausland

unversicherter Versand. Warenwert bis 25 Euro. Kompaktbrief bis 50 gr
Kompaktbrief bis 50 gr.
Brief bis 500gr.
Brief bis 1Kg
Brief bis 2Kg
Paket bis 5 Kg
Paket bis 10 Kg
EU (Zone1)

1,80 €

4,50 €

td>

6,50 €

10,50 €

22,- €

18,- €

24,- €

EU'
(Zone 2)

30,- €

36,- €

Weltweit (Zone 3)

36,- €

46,- €

Weltweit (Zone 4)

40,- €

56,- €
Die Zonen entsprechen denen von DHL:
ZONE 1: Belgien, Monaco, Bulgarien, Niederlande (außer außereuropäische Gebiete), Dänemark (außer Färöer, Grönland), Österreich, Estland, Polen, Finnland (außer Älandinseln), Portugal, Frankreich (außer überseeische Gebiete und Departements), Rumänien, Griechenland (außer Berg Athos), Schweden, Großbritannien (außer Kanalinseln), Slowakei, Irland, Slowenien, Italien (außer Livigno und Campione d'Italia), Spanien (außer Kanarische Inseln, Ceuta und Melilla), Lettland, Tschechische Republik Litauen, Ungarn, Luxemburg, Zypern (außer Nordteil), Malta
ZONE 2: Älandinseln (Finnland), Kosovo, Andorra, Kroatien, Albanien, Liechtenstein, Armenien, Livigno (Italien), Aserbaidschan, Mazedonien, Belarus, Melilla (Spanien), Berg Athos (Griechenland), Moldau, Bosnien-Herzegovina, Montenegro, Campione d'Italia (Italien), Norwegen, Ceuta (Spanien), Russische Förderation, Färöer-Inseln (Dänemark), San Marino, Georgien, Schweiz, Gibraltar (Großbritannien), Serbien, Grönland (Dänemark), Türkei, Island, Ukraine, Kanalinseln (Großbritannien), Vatikanstadt, Kanarische Inseln (Spanien), Zypern (Nordteil), Kasachstan .
ZONE 3:Ägypten, Algerien, Libyen, Marokko, Israel, St. Pierre und Miquelon (Frankreich), Jordanien, Syrien, Kanada Tunesien, Libanon, Vereinigte Staaten von Amerika
ZONE 4: Alle Länder und Gebiete, die nicht den Zonen 1, 2 oder 3 zugeordnet sind.
×
No results were found matching the search criteria!
×
Current time: Friday 29th 2016 July 2016 - 00:17h MET (S)