113th Württembergisches Auktionshaus
---
Auction Date: September 2-3, 2011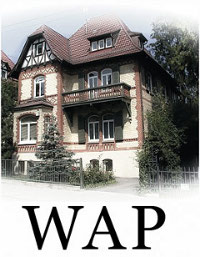 Württembergisches Auktionshaus
Joachim Erhardt GmbH
Relenbergstr. 78
70174 Stuttgart
Tel.: 0711-228 505
Fax: 0711-228 50 80

113th Württembergisches Auktionshaus
---
The auction takes place on 2nd and 3rd of September 2011 within our company rooms
Relenbergstraße 78, Stuttgart-Mitte.
Friday, 2nd of September 2011
11.00h MEST: Lot 1 - 4181 (Oversee, Europe, Old german states)
14.00h MEST: Lot 4182 - 6274 (German empire and Zeppelin)
16.30h MEST: Lot 9856 - Ende (Collections, Literature and Additional lots)

Additional lots will be auctioned before lot 9856.
Saturday, 3rd or September 2011
11.00h MEST: Lot 8228 - 9855 (German Areas, Germany After War)
14.00h MEST: Lot 6275 - 8227 (Special auction German Colonies and Foreign post offices)

Viewing
Monday, 29th of August unti Friday, 2nd of September 2011, from 9am to 12am and from 1pm to 5pm.
Saturady, 3rd of September 2011 from 9am to 2pm.
(Other appointments with advance annoucement)
×
Payment Options:
Imprint and Information for Online Disputes
Information for Online Disputes
"Online Dispute Resolution" (ODR platform by EU regulation)

Link to EU online dispute resolution (splatform)

Information according to Paragraph. 14 of EU Regulation no. 524/2013 (ODR Regulation)
Information for online dispute resolution:
The European Commission presents from 15.02.2016 an Internet platform for online dispute settlement (so-called "ODR platform") as a focal point for the extrajudicial settlement of disputes concerning contractual obligations arising from online contracts on goods or services used.
The EU Commission OS platform can be accessed at the link:
http://ec.europa.eu/consumers/odr
We can be reached via e-mail address: info@briefmarkenauktion.de
---
×
No results were found matching the search criteria!
×
Current time: Monday 24th 2016 October 2016 - 08:55h MET (S)