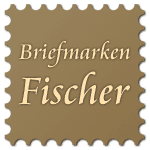 Briefmarken Thomas Fischer
Mögeldorfer Hauptstraße 58
90482 Nürnberg
Tel.: 0911 / 239 78 32

Steuer-Nr.: 238 / 217 / 40754
Ust.-ID: DE 133 279 189

Payment Options:
Allgemeine Geschäftsbedingungen
Die Bestellung ist für Verkäufer und Käufer bindend. Mit der Bestellung kommt mit dem Verkäufer ein Kaufvertrag zustande und verpflichtet den Käufer zur Abnahme. Wer für Dritte bestellt haftet neben diesen selbstschuldnerisch.
Es wird eine Rechnung erstellt, die spätestens 2 Werktage nach Ende der Abgabe der Bestellung dem Käufer übermittelt wird. Die Zahlung ist bis spätestens 8 Tage nach Rechnungsstellung fällig. Ein Anspruch auf Herausgabe der bestellten Ware besteht erst nach vollständiger Kaufpreisbezahlung. Bitte haben Sie Verständnis, das wir keine Ratenkäufe akzeptieren. Aufgrund von Börse-bzw. Messe-Ausstellungen kann es manchmal bei Anfragen, Bestellungen, Rechungseingänge und Lieferungen zu Verzögerungen kommen. Dies geben wir immer rechtzeitig in unserer Startmaske des Online-Shops bekannt.
Der Versand erfolgt auf Rechnung und auf Gefahr des Käufers und grundsätzlich nur nach Vorauskasse. Die Versand- und Verpackungskosten trägt der Käufer.
Reklamationen müssen innerhalb von 14 Tagen nach Zustellung erfolgen. Die Lose müssen sich bei Rückgabe in einem unveränderten Zustand befinden, d.h. die Reklamation ist ausgeschlossen, wenn Lose verändert worden sind. Als Veränderungen gelten insbesondere das Entfernen von Falzen, Falz- oder Papierresten, Behandlung mit Chemikalien und Anbringen von Zeichen jeder Art. Bei einer berechtigten Reklamation hat der Käufer Anspruch auf die Erstattung des Kaufpreises und der Versandkosten der Ware. Sonstige Auslagen seitens des Käufers, wie z.B. Prüfgebühren etc. werden nicht anerkannt und nicht erstattet.
Die angebotenen Waren sind einwandfreie zeitgenössische Originale. Die Beschreibungen werden nach bestem Wissen und Gewissen vorgenommen und sind subjektive Einschätzungen des Verkäufers.
Wir machen darauf aufmerksam, das die aufgeführten Artikel bzw. Waren aus der Zeit des III. Reiches nur zur Zwecken der staatsbürgerlichen Aufklärung, der Abwehr verfassungswidriger und verfassungsfeindlicher Bestrebungen, der wissenschaftlichen und kunsthistorischen Forschung, der Aufklärung oder der Berichtserstattung über die Vorgänge des Zeitgeschehens oder der militärhistorischen und uniformkundlichen Forschung dienen und dem Kunden angeboten werden. Wir die Firma Briefmarken Fischer distanzieren uns hiermit ausdrücklich von allen Inhalten die in Seiten zu finden sind, die auf dieser Homepage gelinkt werden und machen uns diese Inhalte nicht zu eigen! Soweit gesetzlich zulässig ist für alle Beteiligten der Gerichtsstand und Erfüllungsort Nürnberg. Es gilt das Recht der Bundesrepublik Deutschland. Sollte eine der vorstehenden Bestimmungen ganz oder teilweise unwirksam sein, wird die Gültigkeit der übrigen davon nicht berührt. Mit der Abgabe von Bestellungen erkennt der Kunde die vorgenannten allgemeinen Geschäftsbedingungen in vollen Umfang an.
Widerrufsrecht

Sie können Ihre Vertragserklärung innerhalb von 1 Monat ohne Angabe von Gründen in Textform (z. B. Brief, E-Mail) widerrufen. Die Frist beginnt frühestens mit dem Erhalt dieser Belehrung. Zur Wahrung der Widerrufsfrist genügt die rechtzeitige Absendung des Widerrufs oder der Sache.
Der Widerruf ist zu richten an:
Briefmarken An- und Verkauf Thomas Fischer - Irrerstr. 18 – 90403 Nürnberg Telefon: 0911 / 4 62 51 83 -
E-Mail: shop@briefmarkenfischer.de

Wiederrufsfolgen
Im Falle eines wirksamen Widerrufs sind die beiderseits empfangenen Leistungen zurückzugewähren. Können Sie uns die empfangenen Leistungen ganz oder teilweise nicht oder nur im verschlechtertem Zustand zurückgewähren, müssen Sie uns insoweit Wertersatz leisten. Im übrigen können Sie die Wertersatzpflicht vermeiden, indem Sie die Sache nicht wie ein Eigentümer in Gebrauch nehmen und alles unterlassen, was deren Wert beeinträchtigt. Sie haben die Kosten der Rücksendung zu tragen, wenn die gelieferte Ware der Bestellten entspricht. Andernfalls ist eine Rücksendung für Sie kostenfrei. Verpflichtungen zur Erstattung von Zahlungen müssen Sie innerhalb von 30 Tagen nach Absendung Ihrer Widerrufserklärung erfüllen an: Briefmarken An- und Verkauf Thomas Fischer Irrerstr. 18 90403 Nürnberg
×
Imprint and Information for Online Disputes
Information for Online Disputes
"Online Dispute Resolution" (ODR platform by EU regulation)

Link to EU online dispute resolution (splatform)

Information according to Paragraph. 14 of EU Regulation no. 524/2013 (ODR Regulation)
Information for online dispute resolution:
The European Commission presents from 15.02.2016 an Internet platform for online dispute settlement (so-called "ODR platform") as a focal point for the extrajudicial settlement of disputes concerning contractual obligations arising from online contracts on goods or services used.
The EU Commission OS platform can be accessed at the link:
http://ec.europa.eu/consumers/odr
We can be reached via e-mail address: shop@briefmarkenfischer.de
---
×
Versandkosten:
Bitte beachten: Alle Einschreiben und Paketsendungen sind durch unsere Versandversicherung für Sie kostenfrei versichert!.
Sendungen über 800 Euro Wert werden aus Versicherungsgründen nur als Paket versandt.
Das Porto wird individuell für Sie berechnet. Mehrere Artikel werden selbstverständlich zusammengefasst.
Versandkosten Deutschland

unversicherter Versand. Warenwert bis 25 Euro. Kompaktbrief bis 50 gr,
unversicherter Versand. Warenwert bis 25 Euro. Briefumschlag bis 500 gr,
Warenwert über 25 Euro. Pauschal.

1,- €

2,- €

4,50 €
Versandkosten Ausland

unversicherter Versand. Warenwert bis 25 Euro. Kompaktbrief bis 50 gr
Kompaktbrief bis 50 gr.
Brief bis 500gr.
Brief bis 1Kg
Brief bis 2Kg
Paket bis 5 Kg
Paket bis 10 Kg
EU (Zone1)

1,80 €

4,50 €

6,50 €

10,50 €

22,- €

18,- €

24,- €

EU'
(Zone 2)

30,- €

36,- €

Weltweit (Zone 3)

36,- €

46,- €

Weltweit (Zone 4)

40,- €

56,- €
Die Zonen entsprechen denen von DHL:
ZONE 1: Belgien, Monaco, Bulgarien, Niederlande (außer außereuropäische Gebiete), Dänemark (außer Färöer, Grönland), Österreich, Estland, Polen, Finnland (außer Älandinseln), Portugal, Frankreich (außer überseeische Gebiete und Departements), Rumänien, Griechenland (außer Berg Athos), Schweden, Großbritannien (außer Kanalinseln), Slowakei, Irland, Slowenien, Italien (außer Livigno und Campione d'Italia), Spanien (außer Kanarische Inseln, Ceuta und Melilla), Lettland, Tschechische Republik Litauen, Ungarn, Luxemburg, Zypern (außer Nordteil), Malta
ZONE 2: Älandinseln (Finnland), Kosovo, Andorra, Kroatien, Albanien, Liechtenstein, Armenien, Livigno (Italien), Aserbaidschan, Mazedonien, Belarus, Melilla (Spanien), Berg Athos (Griechenland), Moldau, Bosnien-Herzegovina, Montenegro, Campione d'Italia (Italien), Norwegen, Ceuta (Spanien), Russische Förderation, Färöer-Inseln (Dänemark), San Marino, Georgien, Schweiz, Gibraltar (Großbritannien), Serbien, Grönland (Dänemark), Türkei, Island, Ukraine, Kanalinseln (Großbritannien), Vatikanstadt, Kanarische Inseln (Spanien), Zypern (Nordteil), Kasachstan .
ZONE 3:Ägypten, Algerien, Libyen, Marokko, Israel, St. Pierre und Miquelon (Frankreich), Jordanien, Syrien, Kanada Tunesien, Libanon, Vereinigte Staaten von Amerika
ZONE 4: Alle Länder und Gebiete, die nicht den Zonen 1, 2 oder 3 zugeordnet sind.
×
Your Search includes items of the Third Reich
Please Note: German $86 and $86a StGB
The condition for any acquisitions from Philasearch offers is for you to take notice of §86 and §86a StGB, German Law. 'A historical and military item from the year 1933-1945 with a third Reich emblem, is not to be used in any propagandistical way. It is strictly forbidden and a criminal offence.' The items only to be used, among other things, for civil educational intention, historical research, to report about the happenings of the NS-Time.
If you are a registered user, you will see this message only one time.
Current time: Thursday 28th 2016 July 2016 - 20:18h MET (S)