38th Rosslau Auction House
---
Auction Date: Juni 25, 2011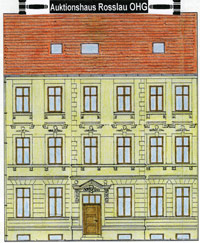 AUKTIONS GmbH Dessau-Roßlau
Turmstrasse 33
06842 Dessau-Roßlau
Germany

Fon:0340/230 27 80 International +49 340-230 27 80
Fax:0340/216 55 45 International +49 340-216 55 45
Payment Options:
Imprint and Information for Online Disputes
Information for Online Disputes
"Online Dispute Resolution" (ODR platform by EU regulation)

Link to EU online dispute resolution (splatform)

Information according to Paragraph. 14 of EU Regulation no. 524/2013 (ODR Regulation)
Information for online dispute resolution:
The European Commission presents from 15.02.2016 an Internet platform for online dispute settlement (so-called "ODR platform") as a focal point for the extrajudicial settlement of disputes concerning contractual obligations arising from online contracts on goods or services used.
The EU Commission OS platform can be accessed at the link:
http://ec.europa.eu/consumers/odr
We can be reached via e-mail address: info@auktion-rosslau.de
---
×
No results were found matching the search criteria!
×
Current time: Thursday 27th 2016 October 2016 - 08:53h MET (S)