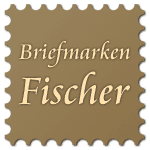 Briefmarken Thomas Fischer
Mögeldorfer Hauptstraße 58
90482 Nürnberg
Tel.: 0911 / 239 78 32

Steuer-Nr.: 238 / 217 / 40754
Ust.-ID: DE 133 279 189

Payment Options:
Imprint and Information for Online Disputes
Information for Online Disputes
"Online Dispute Resolution" (ODR platform by EU regulation)

Link to EU online dispute resolution (splatform)

Information according to Paragraph. 14 of EU Regulation no. 524/2013 (ODR Regulation)
Information for online dispute resolution:
The European Commission presents from 15.02.2016 an Internet platform for online dispute settlement (so-called "ODR platform") as a focal point for the extrajudicial settlement of disputes concerning contractual obligations arising from online contracts on goods or services used.
The EU Commission OS platform can be accessed at the link:
http://ec.europa.eu/consumers/odr
We can be reached via e-mail address: shop@briefmarkenfischer.de
---
×
Versandkosten:
Bitte beachten: Alle Einschreiben und Paketsendungen sind durch unsere Versandversicherung für Sie kostenfrei versichert!.
Sendungen über 800 Euro Wert werden aus Versicherungsgründen nur als Paket versandt.
Das Porto wird individuell für Sie berechnet. Mehrere Artikel werden selbstverständlich zusammengefasst.
Versandkosten Deutschland

unversicherter Versand. Warenwert bis 25 Euro. Kompaktbrief bis 50 gr,
unversicherter Versand. Warenwert bis 25 Euro. Briefumschlag bis 500 gr,
Warenwert über 25 Euro. Pauschal.

1,- €

2,- €

4,50 €
Versandkosten Ausland

unversicherter Versand. Warenwert bis 25 Euro. Kompaktbrief bis 50 gr
Kompaktbrief bis 50 gr.
Brief bis 500gr.
Brief bis 1Kg
Brief bis 2Kg
Paket bis 5 Kg
Paket bis 10 Kg
EU (Zone1)

1,80 €

4,50 €

6,50 €

10,50 €

22,- €

18,- €

24,- €

EU'
(Zone 2)

30,- €

36,- €

Weltweit (Zone 3)

36,- €

46,- €

Weltweit (Zone 4)

40,- €

56,- €
Die Zonen entsprechen denen von DHL:
ZONE 1: Belgien, Monaco, Bulgarien, Niederlande (außer außereuropäische Gebiete), Dänemark (außer Färöer, Grönland), Österreich, Estland, Polen, Finnland (außer Älandinseln), Portugal, Frankreich (außer überseeische Gebiete und Departements), Rumänien, Griechenland (außer Berg Athos), Schweden, Großbritannien (außer Kanalinseln), Slowakei, Irland, Slowenien, Italien (außer Livigno und Campione d'Italia), Spanien (außer Kanarische Inseln, Ceuta und Melilla), Lettland, Tschechische Republik Litauen, Ungarn, Luxemburg, Zypern (außer Nordteil), Malta
ZONE 2: Älandinseln (Finnland), Kosovo, Andorra, Kroatien, Albanien, Liechtenstein, Armenien, Livigno (Italien), Aserbaidschan, Mazedonien, Belarus, Melilla (Spanien), Berg Athos (Griechenland), Moldau, Bosnien-Herzegovina, Montenegro, Campione d'Italia (Italien), Norwegen, Ceuta (Spanien), Russische Förderation, Färöer-Inseln (Dänemark), San Marino, Georgien, Schweiz, Gibraltar (Großbritannien), Serbien, Grönland (Dänemark), Türkei, Island, Ukraine, Kanalinseln (Großbritannien), Vatikanstadt, Kanarische Inseln (Spanien), Zypern (Nordteil), Kasachstan .
ZONE 3:Ägypten, Algerien, Libyen, Marokko, Israel, St. Pierre und Miquelon (Frankreich), Jordanien, Syrien, Kanada Tunesien, Libanon, Vereinigte Staaten von Amerika
ZONE 4: Alle Länder und Gebiete, die nicht den Zonen 1, 2 oder 3 zugeordnet sind.
×