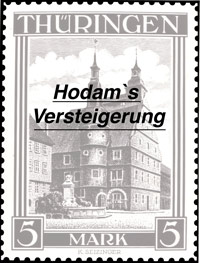 Hodam´s Versandservice
Würselener Str. 16
98646 Hildburghausen
Telefon : 03685/406778
Fax : 03685/406779
Payment Options:

Allgemeine Geschäftsbedingungen (AGB) von Hodam´s Versandservice
Geltungsbereich
Für die Geschäftsbeziehungen zwischen Hodams Versandservice und dem Besteller gelten ausschließlich die nachfolgenden AGB in der zum Zeitpunkt der Bestellung gültigen Fassung.
Preise
Alle Preise sind in Euro angegeben und enthalten die gesetzliche Mehrwertsteuer.
Zahlungsmöglichkeiten
per Überweisung oder Euro-Scheck
Lieferung
Erstlieferung nach erfolgter Vorausrechnung, bei Lieferstörung gelten die gesetzlichen Vorschriften.
Die gelieferte Ware bleibt bis zur vollständigen Bezahlung unser Eigentum, Erfüllungsort und Gerichtsstand sind Hildburghausen.
Versandkosten
innerhalb Deutschlands
| | |
| --- | --- |
| Standardbrief | 0,60 EUR |
| Kompaktbrief | 1,20 EUR |
| Großbrief | 1,50 EUR |
| Maxibrief | 2,30 EUR |
| Päckchen | 4,50 EUR |
| Paket | 7,00 EUR |
Einschreiben: ab 25,- EUR Warenwert zusätzlich 2,10 EUR
Ausland: nach tatsächlichem Aufwand. Bitte bei Interesse anfragen.
Rückgaberecht:
Auf alle Artikel (außer Posten) gewähre ich ab Versanddatum ein vierwöchiges Rückgaberecht. Zur Wahrung der Frist genügt die Mitteilung per E-Mail, Fax. oder Brief an Hodam´s Versandservice, Würselener Str. 16, 98646 Hildburghausen
Bei Belegen mit NS-Emblemen oder -Symbolen verpflichtet sich der Käufer, diese lediglich für historisch-wissenschaftliche Sammelzwecke zu erwerben. Sie sind in keiner Weise propagandistisch, insbesondere im Sinne der StGB §86, zu verwenden
Datenschutz
Mit der Aufgabe einer Bestellung stimmen Sie der Speicherung Ihrer Daten zu. Ihre Daten werden nur von Hodam´s Versandservice verwendet und keinem Dritten zur Verfügung gestellt. Sofern Sie nicht schriftlich widersprechen, dürfen diese Daten von uns für eigene Werbezwecke verwendet werden.
Es gilt deutsches Recht unter Ausschluss des UN-Kaufrechts, auch wenn aus dem Ausland bestellt oder in das Ausland geliefert wird.
Mit der Aufgabe einer Bestellung erkennen Sie diese AGB an.
×
Your Search includes items of the Third Reich
Please Note: German $86 and $86a StGB
The condition for any acquisitions from Philasearch offers is for you to take notice of §86 and §86a StGB, German Law. 'A historical and military item from the year 1933-1945 with a third Reich emblem, is not to be used in any propagandistical way. It is strictly forbidden and a criminal offence.' The items only to be used, among other things, for civil educational intention, historical research, to report about the happenings of the NS-Time.
If you are a registered user, you will see this message only one time.
Current time: Friday 30th 2016 September 2016 - 01:50h MET (S)